---
Powerful Partnerships
Focus on Latino College Completion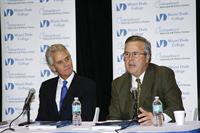 College Board President Gaston Caperton, left, and former Gov. Jeb Bush recently spoke at Miami Dade College during the College Board event.
Setting the national bar as the institution that awards more degrees to minorities than any other in the United States, Miami Dade College recently hosted a roundtable bringing together higher education leaders from throughout the nation to shed light on U.S. college completion rates among Latino students.
MDC's excellent graduation track record made it the ideal setting for the College Board Advocacy & Policy Center to announce recent findings that the Latino college completion rate stands at just 19.2 percent – well below the national average of 41.1 percent.
"College completion is a national imperative that is the key to improving the U.S. economy," said MDC President Dr. Eduardo J. Padrón. "Each additional person with a college credential has a significant multiplier effect on the economy. At Miami Dade College, we are proactively finding innovative ways to improve these national averages."
State and national higher education leaders on the roundtable emphasized the importance of improving college completion rates among Hispanic students and called for the formulation of effective policies to redress the troubling statistics.
Roundtable speakers included former Florida Gov. Jeb Bush, chairman of the Foundation for Excellence in Education; Frank Brogan, chancellor of the State University System of Florida; Alberto Carvalho, superintendent of Miami-Dade County Public Schools; Florida State Sen. Anitere Flores; and Florida State Rep. Erik Fresen.
"This report is a call to action," said College Board President and former West Virginia Gov. Gaston Caperton. "Our nation will not become
No. 1 again in college completion unless we commit ourselves to giving these students the support they need to achieve their full potential."
— MR
More Powerful Partnerships Articles