---
Academics
College Expands Holocaust Awareness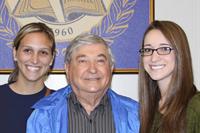 At Homestead Campus' March of the Living event, students interacted with Auschwitz survivor and President of the Miami-Dade Holocaust Survivors group David Mermelstein.
Miami Dade College's Holocaust & Genocide Education Program is embarking on a major expansion to bring its powerful message to a broader audience.
From its start with one course four years ago, the program has grown to three courses and has impacted more than 6,000 audience members with 29 community events reminding many generations that genocide persists today. Moving talks by survivors and their families touch a community where tales of resistance to oppression are well understood.
Increased Understanding
"Bringing the story of the Holocaust to our students was an accomplishment in itself," said Randall Kaufman, chair of the Arts and Sciences Department at MDC's Homestead Campus and one of the program's founders. "We've expanded it to include genocide awareness."
To continue its work, the program is launching a formal fundraising campaign to establish a $1 million endowment, with $50,000 allocated for programs each year. Half of the money will fund major speakers and events, such as the current Kristallnacht commemoration and Holocaust Education Week. An annual Genocide Awareness Week is set for April 4-12.
The other half would be designated for Miami Dade College students to participate in a summer study abroad program with the Jagiellonian University in Krakow, Poland – a country whose Jewish population was destroyed by the Holocaust at the nearby Auschwitz Concentration Camp.
New Courses
Shorter-term goals include the addition of three courses: Psychology of Genocide, Introduction to Genocide, and Studying and Teaching the Holocaust. The first two are in the pre-development stage, Kaufman said; the third will be offered by MDC's School of Education in the summer or fall.
"Through these programs, Miami Dade College reaches out to not only students but also future teachers," he said.
A major lesson learned from the Holocaust and the survivors is to not let it happen again. As Kaufman notes, "Not to be a bystander is important to all of us."
For more information on the program and how to help, contact Kaufman at rkaufma1@mdc.edu.
— Staff Report
More Academics Articles