---
Academics
Ensuring Success for the Youngest Learners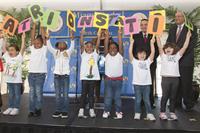 Students unveil the new name of MDC's revamped preschool, Exploration Station, an early childhood facility at North Campus serving children from age 1 through pre-kindergarten.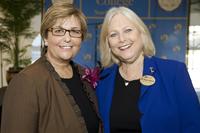 Dr. Gina Cortés-Suárez, president of MDC's InterAmerican Campus, and Dr. Susan Neimand, director of the College's School of Education.
Always on the forefront of learning trends in education, Miami Dade College recently unveiled a new name to reflect changes in curriculum at the successful Pre-School Laboratory at North Campus.
Exploration Station: The Pre-School at Miami Dade College is the only preschool in Miami-Dade County focused on science, technology, engineering and mathematics (STEM) themes.
Explore Your World
"Learning is focused on the children and their exploration of the world around them," said Dr. Susan Neimand, director of MDC's School of Education. "We wanted the name to reflect our commitment to a child-centered environment where children learn based on their interests."
Letting children follow their passions when learning is an important lesson for the Exploration Station teachers, many of whom are MDC students in Early Childhood Education. Other MDC School of Education students work on their clinical teaching hours while instilling the preschoolers with a joy for learning.
For example, if the young learners take an interest in butterflies on the playground, the teacher might order a butterfly kit for the classroom, and lesson plans might focus on the life cycle of a butterfly, Neimand said. Although children at this age can't write yet, they are encouraged to draw what they see in journals.
Hands-on Learning
"We allow the children to express what they're interested in, and then we provide the experiences to allow them to explore more deeply in that area," Neimand said. "That's the way children this age learn the best. In good early childhood education, teachers take their cue from the students."
The state-of-the-art facility, serving 100 children from age 1 to pre-kindergarten, also features an art lab and science lab in addition to an outdoor garden where students learn about environmental sustainability, how to care for plants, and good nutrition and healthy eating habits.
— AMS
More Academics Articles