---
Cultural Spotlight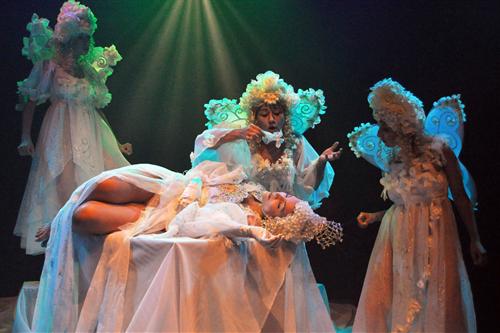 Playing With the Past
Making big strides in the nation's theater-mecca state, Miami Dade College's Teatro Prometeo recently brought the house down at Union College in New York with its tour production of Mujeres de Shakespeare (Shakespeare's Women).
The acclaimed adaptation by Neher Jacqueline Briceño, which was all the rage at last year's International Hispanic Theatre Festival in Miami, bedazzled New York audiences with this unique, fiery and passionate Spanish performance combining heroines from six of the famous Bard's most revered works.
Trading Places
Closer to home, Kendall Campus offers a merry play on mistaken identity with its production of Twelfth Night (or What You Will), directed by Deborah Mello.
Concluding the Studio Theatre's 2011-12 season, the comedy's original title makes reference to the Eve of the Feast of the Epiphany. Also known as the 12th day of Christmas in Elizabethan England, it was a day of carnivalesque, role-reversing revelry, in which servants dressed up as their masters, men as women and so forth. The cross-dressing and role reversals take place to riotous effect.
Musical Delights
For a contemporary take on the Middle Ages, Wolfson Campus' Opera/Musical Theater Workshop stages Pippin, under the direction of Vocal Studies Director Amy Ibberson. Originally directed on Broadway by Bob Fosse, the hit musical tells a playful tale about the child prince Pippin (Pépin), son of Holy Roman Emperor Charlemagne, and his ceaseless quest for fulfillment.
MDC students are not only cast members in these productions, they also are actively involved backstage.
"Our theater programs at Miami Dade College are dedicated to helping young students pursue a career in performing arts," said Ibberson. "We give our graduates the skills they need to become successful players on the world stage."
— HP
More Cultural Spotlight Articles