---
Cultural Spotlight
Confucius Institute Marks Chinese New Year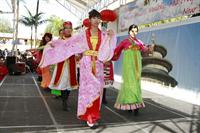 An ensemble performs traditional Chinese dances in colorful costumes to herald in the new year.
Even though the Chinese New Year is still young, with its traditional 15 days of celebrations running through February, the Confucius Institute at Miami Dade College is already having an auspicious year. With the success of the Institute's recent forums and spectacular cultural festivities at several MDC campuses, the Year of the Dragon is living up to its reputation for being the luckiest one on the calendar by ushering in good energy, optimism, strength and prosperity.
This spring marks the second anniversary since the Confucius Institute opened its doors at MDC's Wolfson Campus. During these fruitful two years, the Institute has built bridges of understanding between China and the United States by furthering knowledge of the Chinese culture and language.
The recent forum "Chinese Migration to the Caribbean Basin," co-sponsored with the Miami Chinese Culture Foundation, was presented at MDC's Kendall Campus. In addition to stimulating discussions, the Institute rang in a new year with beautiful music when it hosted the Nanjing University Traditional Instruments Orchestra and offered performances at Kendall, North and Wolfson campuses.
Sponsored by Hanban/Confucius Institute Headquarters in Beijing, the 23-member orchestra performed Chinese and Western music using traditional Chinese instruments, including bowed and plucked strings, along with wind and percussion instruments that have been around for millennia. Comprised of undergraduate and graduate students from various academic disciplines, the ensemble is considered one of the best college orchestras in China. In a mixture of cultures, MDC students and the community at large learned about Chinese culture through the universal language of music.
— HP
More Cultural Spotlight Articles