---
Features
Global Leaders Broaden Educational Experience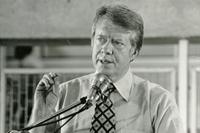 Former U.S. President Jimmy Carter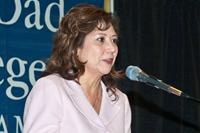 U.S. Secretary of Labor Hilda L. Solis
Throughout its prolific history spanning more than five decades, Miami Dade College has spurred the intellectual development and intercultural understanding of its students, faculty, administrators and the community at large by hosting a wide variety of events featuring world-renowned leaders and dignitaries who have visited the College to share their insights and vision for the future.
This semester brought more distinguished guests to MDC. Spain's former Prime Minister José María Aznar discussed global ties between the U.S. and Europe. The Honorable Ambassador João Vale de Almeida, who heads the Delegation of the European Union to the U.S., offered insights on world economics and politics. Former Nicaraguan President Enrique Bolaños presented a lecture on his virtual library, the greatest online repository of digitalized historic documents in Nicaragua and the first of its kind in Central America. U.S. Secretary of Labor Hilda L. Solis hosted a discussion at MDC with Miami Latino leaders focusing on the president's State of the Union address and issues of importance to the Latino community. Egyptian Ambassador to the U.S. Sameh Shoukry met with Honors College students for a question-and-answer session.
In recent years, the College's acclaimed Miami Leadership Roundtable series has featured a bevy of brilliant keynote speakers, including Poland's Lech Walesa, former Soviet Union leader Mikhail Gorbachev and former U.S. presidents Jimmy Carter and Gerald Ford, among many other renowned leaders.
With this strong tradition of offering profound intellectual insights, Miami Dade College moves boldly into its next half century of development.
More Features Articles