---
Features
Hall of Fame Welcomes Exceptional Alumni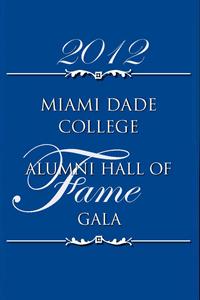 Miami Dade College's Hall of Fame gala takes place May 10.
Miami Dade College will induct another stellar group of accomplished alumni into its Hall of Fame during the 10th annual celebration on May 10 at the Hilton Miami Downtown.
Each year, new members who have attained great success and made significant contributions in their fields are selected to join the Hall of Fame's prestigious ranks. The impressive inductees represent all spectrums of the community, from health care and public service to communications and engineering. This event also helps raise scholarship funds for students at Miami Dade College.
"Our Hall of Fame honorees span a wide range of professions and possibilities," said MDC President Dr. Eduardo J. Padrón. "Their success inspires us with optimism for what future generations of Miami Dade College students will achieve and reminds us of education's ability to alter individual lives, families and communities."
Some of the outstanding alumni who will be inducted this year include:
Accounting: Hector Tundidor Jr., CPA, Miami Managing Partner, Ernst & Young LLP
Advertising & Marketing: Robert J. Rodríguez, CEO, NPN Media
Architecture: Angel C. Saqui II, Partner, Angel C. Saqui, FAIA Architects, Planners Interiors Ltd.
Banking: Hector J. Ponte, Community Bank President Dade/Broward Countyline Market, Wells Fargo Bank
Business: Mike Tomas, President and CEO, Bioheart, Inc.
Communications: George Torres, Vice President, Miami Dolphins
Corporate Leadership: Roberto Rodríguez, Chief Operating Officer and Executive Vice President, Denny's Corporation
Education: Dr. Alexis L. Martínez, Regional Superintendent, Miami-Dade County Public Schools
Engineering: Jorge R. Duyos, President, JRD & Associates
Entrepreneurship: Juan R. Borges, President, Biomedical International Corporation
Hospitality & Tourism: María R. Del Busto, Global Chief Human Resources Officer, Royal Caribbean Cruises Ltd.
Journalism – Broadcast: Gloria Ordaz, Weekend News Anchor, Noticias 23, Univision
Journalism – Print: Antonio Fins, Editorial Page Editor, Sun Sentinel
Law: Rebecca Ingram, Private Attorney, Law Offices of Rebecca Ingram
Literary Arts: Liz Balmaseda, Food and Dining Editor, The Palm Beach Post
Medicine: Dr. Jack J. Michel, President & Chairman of the Board, Larkin Community Hospital
Nonprofit Sector: Carlos F. Orta, President   and CEO, Hispanic Association on Corporate Responsibility
Public Safety – Fire: Marcos De La Rosa, Fire Chief, City of Hialeah Fire Department
Public Safety – Police: Addy M. Villanueva, Special Agent in Charge, Florida Department of Law Enforcement
Public Service: Esther Jacobo, Regional Managing Director, Department of Children and Families (Southern Region) Miami-Dade and Monroe Counties
Sports: Bruce Fleisher, Professional Golfer, PGA Champions Tour/BLF Inc.
Technology: Oscar R. Compain, President, Quest International, Inc.
Transportation: Fernando Santa Cruz, President, Freight Solutions
Urban Development and Construction: Jorge R. Munilla, President, MCM
Visual Arts: Adler Guerrier, Visual Artist
More Features Articles