---
Making Their Mark
A Global Citizen in the Making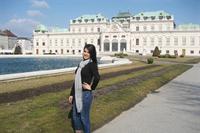 MDC Honors College student Rummesa Abrar recently traveled to Austria to participate in the Salzburg Global Seminar.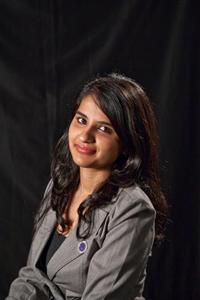 Accounting major Rummesa Abrar is excelling at MDC's Honors College at North Campus.
When Honors College student Rummesa Abrar started taking accounting at MDC's North Campus, she knew it was the right fit. A mind for numbers and a passion for business are all adding up to the promise of a bright future for the 19-year-old.
"Accounting is the language of business," said Abrar. "Anything I do in the future can relate to accounting."
Numerous Accomplishments
One number in particular relates directly to Abrar's rigorous work ethic: her 4.0 GPA. Yet, that's just one of many accomplishments that set her apart. She participates actively in clubs as vice president of fellowship of the business club Phi Beta Lambda, secretary of the Investment Club, and a member of the Phi Theta Kappa Honor Society, Women Moving Forward and Youth for Environmental Sustainability.
In recognition of her hard work, Abrar recently won numerous scholarships from entities including the Marcel and Clare Gloriot Memorial Foundation, The Merage Foundation for the American Dream, Publix Supermarkets and Coca-Cola. She is also a Florida Medallion Scholar.
"Rummesa is an incomparable young lady who well deserves these accolades," said North Campus Honors College Director Sandra Martínez.
In addition to the notable scholarships, Abrar is reaching  out to learn more about the world. In March, she traveled to Austria to participate in the Salzburg Global Seminar with fellow high-achievers from MDC's Honors College.
Divergent Destinies
Born in Pakistan, Abrar came to the United States at age 6 with her parents and her older brother and sister, who was the first in the family to go to college. "Education, in Pakistan, is not considered as important as it is in America," said Abrar.
Add Pakistan's social inequalities to the mix and Abrar acknowledges how different her life would have been had she stayed.
"I know that I would not achieve my dreams if I were in Pakistan," she said. "Unfortunately, strict gender roles exist in the country in which I was born. These roles wouldn't have allowed me to further my education, like I have been able to do in America. I would be limited to doing household chores, cooking and cleaning. By now, I would probably already have had an arranged marriage and be living for my husband, not for myself."
Global Goals
The limitations women face in Pakistan help fuel her desire to succeed. While her dream is to have a successful accounting career, it is a means to a greater goal.
"My real passion is to be a global citizen and help out around the world," she said. "I want to give back to Pakistan and help find a way to increase women's education. I want women in Pakistan to have the same opportunities I have been able to have.
"I know that if I have a certain set of skills and education, I can be more successful in achieving my goal. MDC is helping me get there."
— MR
More Making Their Mark Articles