---
Powerful Partnerships
A Visit From Across the Pond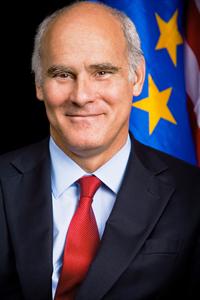 EU Ambassador João Vale de Almeida recently visited MDC's Wolfson Campus.
A frequent stop on the itineraries of international dignitaries, Miami Dade College recently had the distinct honor of hosting a visit by European Union Ambassador Hon. João Vale de Almeida at the College's Wolfson Campus.
As Head of the Delegation of the European Union to the United States, Almeida represents EU Commission President José Manuel Barroso and European Council President Herman Van Rompuy.
Weighty Issues
The day began with an informative Q&A session at Wolfson Auditorium, where Almeida answered insightful and challenging questions from a packed audience of students and faculty. Subjects addressed included the European debt crisis, European unity and immigration, as well as the outlook for the future in these tumultuous times.
Despite the numerous challenges Europe is facing – including dauntingly high levels of youth unemployment, austere economic reforms, the underlying threat of terrorism and shifts in the geopolitical landscape – Almeida expressed optimism for the future, particularly with regard to U.S.-European relations.
Working Together
"These are global problems that we cannot solve locally," Almeida said. "It is important for the EU and U.S. to act together. We must keep our sights on creating conditions for growth."
Following the Q&A, MDC held a reception in the ambassador's honor at its historic Freedom Tower, where he received a warm welcome from more than 400 local leaders, dignitaries and members of the College community.
— MR
More Powerful Partnerships Articles