---
Cultural Spotlight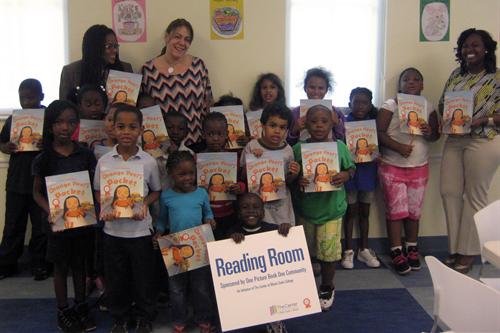 Free Books for Eager Readers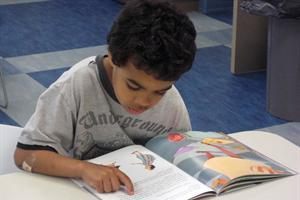 A child reads a book he received from The Center @ MDC.
One beautiful spring day, children in the afterschool program at Williams Park Community Center in Overtown jumped up and down, hands waving wildly.
"I am learning to read!"
"I read to my sister!"
"Can I have one for my cousin?"
They clamored for free copies of Orange Peel's Pocket during one of several recent giveaways in which The Center @ MDC distributed nearly 500 books as part of its popular initiative called One Picture Book, One Community (OPBOC). Handing out the tale about a girl who is eager to learn more about her heritage were City of Miami Commissioner Michelle Spence-Jones, Center representatives, District 5's Community Affairs Liaison Rosenny Augustine and parks department officials.
Annual Endeavor
Kids at Roberto Clemente Park, Little Haiti Soccer Park and African Square Park also got books this spring. Launched in 2006, OPBOC works each year with community partners to distribute thousands of tomes to children in Miami-Dade and Broward counties.
"This is direct action. We are out there all the time to make sure kids learn to read, make it a habit and fall in love with books," said Center Executive Director Alina Interián. "Studies have shown that the more kids read, the better their overall school performance is."
OPBOC targets first and second graders, handing out books at selected public schools, to parents who request copies and through programs such as the one created by Spence-Jones, a champion of education who is working to create reading areas in all the community centers in her district.
Afterschool Outreach
"We hope to continue our partnership with District 5, while expanding to other Miami afterschool programs and early education centers," said Interián.
With a grant from the NEA, The Center also spearheads a literacy program for adults called The Big Read, which promotes the joy of reading through book giveaways and programs related to featured works. This spring, Emily Dickinson's poetry was promoted.
For more information about these or other literary programs, please visit www.TheCenteratMDC.org.
— Staff Report
More Cultural Spotlight Articles