---
Cultural Spotlight
Tackling Broadway's Tough Topics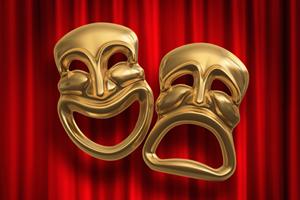 Theater thrives at MDC with the recent production of "How I Learned to Drive."
Year in and year out, Miami Dade College delivers on its commitment to provide its students with every opportunity to obtain the best education as well as make available to them a slew of cultural events that make for a well-rounded individual. The upcoming 2012-13 season will be no different, with cultural offerings at every campus that are sure to titillate both heart and mind.
Kendall Campus' Studio Theatre will kick off this fall with Paula Vogel's Pulitzer Prize-winning play How I Learned to Drive. Having enjoyed a recent Broadway revival, this heartbreakingly polemic drama doesn't shy away from territory others fear to tread. Yet, by the same token, it doesn't stomp the stage vociferously demanding attention for dealing with such prickly subjects as pedophilia and incest. Instead, it handles them with the sort of subtlety and heart-rending realism that is usually reserved for more conventional love stories. That is the beauty of How I Learned to Drive; it doesn't judge or proselytize, but instead it just tells it like it happened and leaves the rest to us.
"When considering whether to stage this play, I debated if the students were ready for such a serious topic," said Studio Theatre Director and MDC Professor Deborah Mello. "Obviously, I decided they were and that the humor of Vogel's work would help them deal with this very sensitive issue."
To experience this unforgettable show, head to Studio Theatre this fall and fall in love with great theater once and for all.
— HP
More Cultural Spotlight Articles