---
Features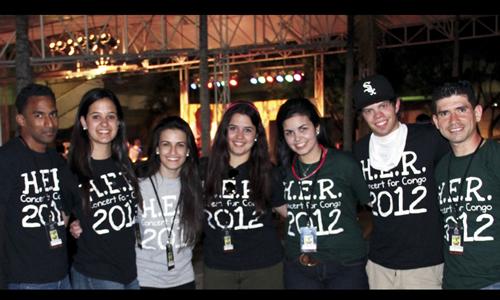 Orchestrating a Concert, Building a Home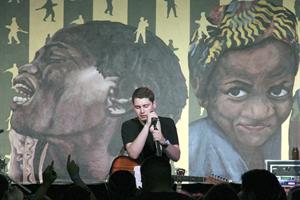 Cris Cab headlined at the H.E.R. Concert, which featured a striking backdrop by students in the Visual Arts Student Organization, or VASO.
Increasing awareness and improving the lives of people around the globe, MDC students raised thousands of dollars this spring to build a safe house for women in the Democratic Republic of the Congo.
"The H.E.R. Concert for Congo was our most successful fundraiser to date," said Professor Stuart Williams, who worked together with Professor Diego Tibaquirá to advise students on MDC's SAID team, which organized the event.
Created in 2009, SAID partners with international organizations to accomplish concrete goals that have a direct, immediate impact on those in need. SAID, which stands for Students Aiding International Development, has held All-Nighters for Haiti in the past, raising nearly $50,000 to construct tilapia farms and to support reconstruction efforts after the devastating earthquake.
Stirred by Injustice
Shifting their focus this year after learning that 80 percent of the rapes in the world occur in the Congo, SAID student leaders partnered with the international nonprofit HEAL Africa to help victims in this war-torn nation where rape is used as a combat weapon.
More than 100 MDC students took part in planning and organizing the H.E.R. Concert, which stands for the event's goal of helping "Heal, Empower and Rebuild" the lives of Congolese women and their children through safe houses that offer long-term support from skilled counselors who also teach job skills.
Ardent Commitment
To ensure the event's success, the students worked in six committees: corporate sponsorship, awareness building, media and press relations, campus fundraising, entertainment and side attractions, and art and graphics. Many earned service-learning credit for their work, putting lessons learned in the classroom to practical use for the benefit of others. But course credit is not what inspires most.
"The students' efforts go far beyond service-learning," Williams said. "Most of the team leaders don't even seek credit for their work. They are motivated by the cause and have a strong sense of civic responsibility."
That commitment to a higher goal spurred them ahead when they were spread thin by the demands of classes and jobs. It also enabled them to overcome the inevitable squabbles that arise when a group of intelligent, creative individuals works long and hard on a project that stirs their hearts.
"Whenever they would argue about how to handle some aspect of the concert, all I had to do was remind them of the common cause we are all working toward," said Williams.
A New Home Rises
The next rewarding step for SAID will be to see the money raised become a sanctuary for those in need. "We will now work closely with HEAL Africa to orchestrate the development of the safe house," Williams said.
— BK
More Features Articles