---
Features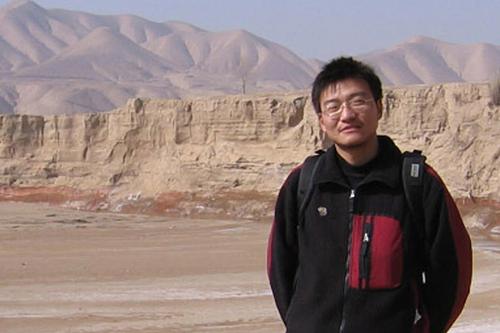 Personal Insights on Global Pollution Problems
Shortening the distance between the Eastern and Western hemispheres, MDC's Confucius Institute recently raised awareness of environmental issues plaguing China when leading environmentalist Zhao Zhong visited the College.
Named a "Hero of the Environment" by Time Magazine in 2009, the 29-year-old Zhao founded Green Camel Bell, a grassroots nongovernmental organization (NGO) that is making strides to reduce pollution and improve civil society in the vast and desolate western province of Gansu, which suffers from industrial pollution and drought.
Vulnerable Ecosystem
Home to a far smaller population than China's densely inhabited eastern provinces, Gansu has increasingly become a focal point of industrial production. Pollution from the private and state-run plants has exacerbated an already delicate ecological balance and endangered the population's limited water supply.
Zhao spoke about China's geography and environmental challenges in a series of lectures, free and open to the public at MDC's Wolfson, Kendall and North campuses thanks to a collaborative effort between the College's Confucius Institute, its Earth Ethics Institute and its School of Science. A nuclear engineer who left a coveted position at the prestigious Chinese Academy of Science to tackle Gansu's problems, Zhao also spoke about Green Camel Bell's significant victories and his personal journey into environmental activism, underscoring the importance of social entrepreneurship and the impact that one individual can make in the world.
Setting an Example
"The purpose of my talks was to help students in the U.S. learn about China's west, environmental protection and nonprofit organizations," said Zhao. "My personal stories also show the younger generation that they can achieve their dreams."
These lectures are one of the many intellectual and cultural endeavors by MDC's Confucius Institute, which seeks to help American students gain a multidimensional perspective on China through study abroad, faculty support and outreach events.
"Mr. Zhao's presentation was an excellent educational opportunity for the students, faculty and community to better understand Chinese society," said Dr. Jim Yu, director of MDC's Confucius Institute. "It is through events like this that we are helping to improve Chinese-U.S. communication and mutual understanding."
— MR
More Features Articles