---
Features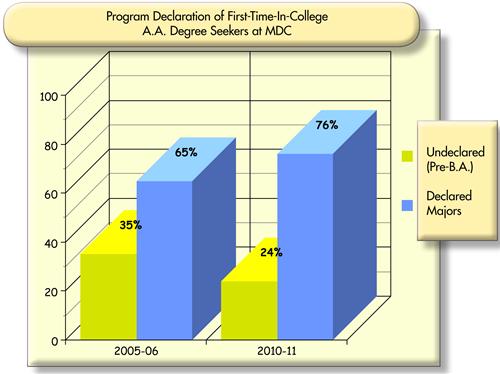 Good Guidance Pays Off
Leading the nation in its quest to continue improving college completion rates, MDC faculty, student services and administrators have been working full-steam ahead on the MDC3 College Completion Initiative. As research and dialogue begin to bear fruit, it has become apparent that MDC has already made strides in one critical factor in the completion formula: advisement to help students choose a specific program goal.
Data from Miami Dade College's Institutional Research department show that five-year completion rates for students who chose a more specific program intent are seven percentage points higher than for those who elect the generic "Pre-Bachelor of Arts" track, which covers the standard core requirements of the first two years of college. Those who declared a major before they reached the 25 percent completion benchmark were twice as likely to graduate.
Thanks to its strong advisement practices, since 2006 an increasing number of MDC students are declaring specific majors by the end of their first term, reflected in an 11 percent drop in selection of the more generic Pre-B.A. program by first-time-in-college (FTIC) A.A. seekers.
Roadmap to Completion
While all students must choose a degree and/or program goal upon enrollment, the choice is not always well-informed and often is the generic Associate in Arts (A.A.) program. Armed with both local and national research that suggest that students with a specific career goal in mind are more likely to persist from year to year and complete a degree, MDC's Advisement and Career Services staff has worked for years to help students who initially chose Pre-B.A. to change to something more specific during their first year of enrollment.
"One of the most basic things we've done is to simply make sure that, when encountering a student who hasn't declared a major, our staff begins every advisement conversation with 'Do you know what you want to study?' or 'Do you know what kind of work you want to do?' " said Paola Documet, MDC lead director of Advisement and Career Services. "We found that students often select Pre-B.A. as a default without understanding its implications. Many of them actually know what they want to study already."
Successful Strategy
Advisement and Career Services makes its initial push for major declarations at orientation. After that, it employs a multipronged strategy to get students into the advisement office and on the right track.
"We are reaching out to students repeatedly throughout the semester," said Documet. "Students in poor academic standing are assigned academic advisors who work with them to develop an Individualized Education Plan and, starting this fall, all FTIC direct-entry students will also be assigned advisors to ensure these interventions help to keep students on the right track from the moment they start college."
Exploring Options
Advisement consultations often entail career exploration along with inventories of skills and interests, which undeclared majors must complete in order to register for third-semester classes.
As a result of its efforts, in the 2010-11 academic year alone, Advisement and Career Services has seen 35 percent of the students that it specifically targeted change their goals within one year.
"We have continued the intervention that we implemented in the fall of 2010," Documet said. "It has made a world of difference."
— MR
More Features Articles