---
Features
Protecting Our Blue Planet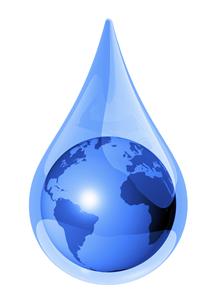 The MDC Earth Ethics Institute's Green Fairs focused on water preservation.
Standing at the forefront of the region's sustainability efforts, MDC's Earth Ethics Institute (EEI) held a series of Green Fairs this spring to increase awareness about the human impact on the health of our fragile planet.
Shaping the dialog of the fairs was keynote speaker Cynthia Barnett, an award-winning journalist and author whose book Toward a Water Ethic focuses on how critical rivers, lakes, aquifers and the ocean are to Florida and on how water scarcity throughout our "Blue Planet" already is a serious problem impacting socio-economic conditions worldwide and international security issues in the near future.
A Closer Look at H2O
"Barnett got students thinking about their crucial role in bringing about a global understanding of the value of water and conservation," said Colleen Ahern-Hettich, EEI director.
A record number of student presenters and exhibitors participated in this year's fairs, which are an annual event attracting hundreds of participants to Miami Dade College's North, Wolfson and Kendall campuses. Presented by EEI working in collaboration with Campus Green Teams and the Student Life Departments at each campus, these festive and informative events are part of an ongoing environmental education series that reaches all campuses with lectures, workshops and activities.
Intellectual Development
Sharing their classroom lessons with a broader public, students offered their views on sustainability. Faculty also learned valuable lessons during an extensive workshop on water ethics, for which they received professional development credit. The dozens of professors who attended developed environmental lesson plans with guidance from Barnett and Maribel Balbin, Miami-Dade County sustainability program manager for water resources and green economy.
Involving the whole South Florida community, the Green Fairs included participation from the Animal Rights Foundation of Florida, Miami-Dade County Solid Waste Management, Biscayne National Park, the Sierra Club and Young Friends of the Everglades.
"These groups offer students information about how they can make a difference by volunteering locally to have a vital impact globally on our planet's future," Ahern-Hettich said.
Besides the academic and practical advice offered, the Kendall Campus fair offered a unique twist by adding the beauty of art to its organic garden with an installation of sculptures and paintings by students.
— Staff Report
More Features Articles