---
Making Their Mark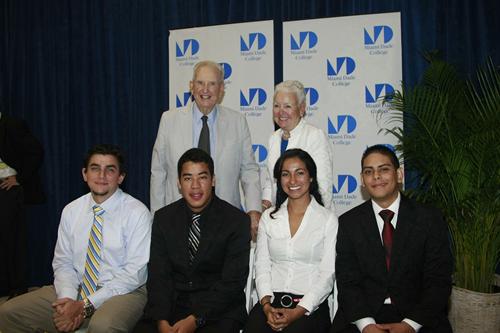 Set on a Trajectory for Success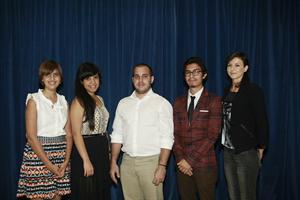 From left, Chelsea Moore, Irma Gutiérrez, Rafael Domenech, Alejandro Valencia and Irina Slizskaya received the 2012 Francis Wolfson Art Scholarships.
The Miami Dade College Foundation recently helped 10 students to shoot for the stars with valuable scholarships supporting the College's art and aviation programs.
Flying High
Ensuring students a smooth flight to the top, the Foundation and the Eig-Watson School of Aviation at MDC recently awarded scholarships to five students at an awards luncheon at Wolfson Campus.
One of the largest aviation scholarships in the country, the Eig-Watson Scholarship Program has previously presented more than 179 awards to outstanding students to help them defray the costs of additional flight training necessary to achieve their next pilot certificate or rating. This year's winners are Mariano Barrios,
Israfel Carratala, Luis Eduardo Heras, Jorge Molina and Kathleen Suárez, with each receiving $8,680.
In order to qualify for the scholarships, the students must have a private pilot certificate from the Federal Aviation Administration, a minimum 3.0 GPA and at least 12 MDC credits completed.
"The scholarship enables dedicated, hardworking flight students to pursue their dreams of becoming commercial pilots," said Diana Lewis, director of the Eig-Watson School of Aviation.
Stellar Achievements
For the 48th year in a row, five accomplished art students at MDC and New World School of the Arts were awarded the $1,500 Frances Wolfson Art Scholarships. Recipients included Rafael A. Domenech, Irma Gutiérrez, Chelsea Moore, Irina Slizskaya and Alejandro Valencia.
A renowned artist and Miami civic and cultural leader, the late Frances Wolfson established the scholarship fund exclusively with proceeds from the sale of her paintings with the intent of assisting student artists. 
— MR
More Making Their Mark Articles