---
Making Their Mark
Grads Earn Prestigious National Scholarship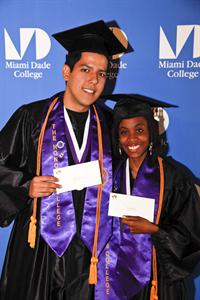 Scholarship winners Esteban Roncancio and Cassandra Bazile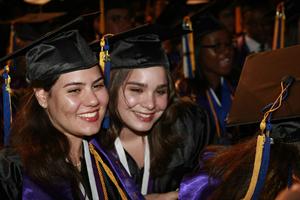 Scholarship winners Jessica Alvarez, left, and Monique Madan
Four Miami Dade College graduates were among only 50 outstanding students across the nation to receive the prestigious Jack Kent Cooke Foundation Undergraduate Transfer Scholarship to continue their education at a four-year college or university. MDC was the only college in the country to have four students selected for the scholarship awards, which are based on outstanding scholastic and civic achievement. All four MDC graduates will receive $30,000 per year to cover their educational costs to attain a bachelor's degree.
Among the praiseworthy recipients is honors student Jessica Alvarez, who held a 3.9 GPA while pursuing a psychology degree at North Campus and maintaining an active co-curricular and civic engagement schedule.
Accepted to Smith College, the University of Florida and the University of Wisconsin at Madison with excellent scholarship packages, Alvarez also awaits decisions from the University of North Carolina at Chapel Hill, Stanford University and Georgetown University.
An exceptional graduate of Kendall Campus, Cassandra Bazile majored in international relations and economics and maintained a 3.83 GPA. The Honors College student was actively involved in service-learning projects and numerous student organizations. Bazile hopes to become an attorney in order to offer legal assistance to underprivileged populations. She has been accepted to Smith College, Northeastern University, the University of North Carolina at Chapel Hill and Mount Holyoke.
Already preparing for a future journalism career, scholarship recipient Monique Madan has substantial industry experience and internships. She maintained a 3.98 GPA amid a sterling record of student involvement that included serving as editor-in-chief of MDC's award-winning student newspaper, The Reporter,and working as a reporter for The Miami Herald.
She has applied to Syracuse University and Northwestern University's Medill School of Journalism, and thus far she has received acceptances to Emerson College in Boston and the University of Miami.
Another Honors College graduate, Esteban Roncancio majored in computer engineering and maintained a 4.0 GPA. He has participated in many campus environmental projects, and he hopes in the future to design computer systems that are more energy efficient. Roncancio also works as a student activist for equal access to education for undocumented youth. He was recently recognized by the People for the American Way Foundation as one of 150 college activists in the nation to participate in the Young People for Fellowship program.
He has been accepted to Brown, Amherst College and the University of Florida and also has applied to Stanford and Cornell universities.
— AMS
More Making Their Mark Articles