---
Making Their Mark
Miambiance Earns Top Collegiate Honors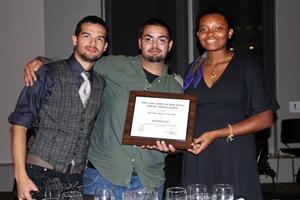 On hand to accept the Silver Crown Award for "Miambiance" were MDC students Jeremy Sabater, Christopher Quintana and Yetunde Babalola.
The acclaimed student literary magazine at MDC's Kendall Campus – already known for its outstanding writing and creative design – recently garnered a coveted honor from the Columbia Scholastic Press Association.
Miambiance magazine was one of only 30 college publications from across the country to be honored with a Silver Crown at the event held at Columbia University, reaching the upper echelons of the more than 1,500 print and digital publications eligible to enter.
"It's very difficult to win either a Silver or Gold Crown because of the extensive judging that goes on," said Miambiance faculty advisor Marta Magellan, an English professor at Kendall Campus. "When the students of Miami Dade College win in this contest, they have competed with four-year universities in both the U.S. and Canada, so they have every right to feel their talent has been justly recognized."
Judging focuses on a range of components, including writing, editing, design, content, concept, photography, art and graphics.
"As lovely as it is to get national recognition for our work, this award is really a testament to our dedication as a staff, to each other as colleagues and to Miambiance," said Miambiance contributor and MDC student Jeremy Sabater.
The award represents the magazine's fifth Crown Award, including a Gold in 2007. Throughout its history, Miambiance also has received numerous Gold Medalist awards from the CSPA for receiving a high threshold of points on their critiques. Every year for the past 10 years, student contributors also have taken home anywhere from 10 to 24 individual CSPA Gold Circle awards.
Miambiance is one of five award-winning publications produced by students at Miami Dade College's seven campuses.
— AMS
More Making Their Mark Articles