---
Powerful Partnerships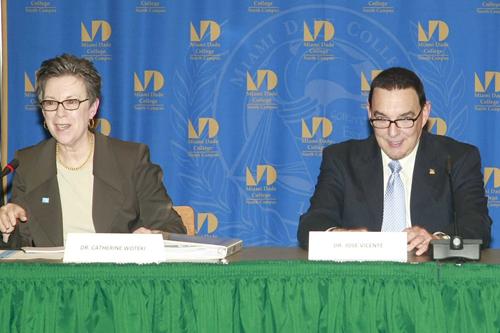 Helping the USDA Meet Growing STEM Demand
Keeping ahead of the nation's increasing need for graduates in the fields of science, technology, engineering and mathematics (STEM), Miami Dade College continues to spur student interest in and bolster support of these academic disciplines.
The College recently hosted a discussion with Dr. Catherine Woteki, undersecretary for the United States Department of Agriculture's (USDA) Research, Education and Economics (REE) Mission Area, who offered her opinions on the future of funding and issues related to STEM research and education.
Exceptional Job Preparation
"Educating our next generation of innovators is a top priority for the USDA, and we are proud of our long-standing partnership with Miami Dade College in doing that," Woteki said. "A good grounding in STEM disciplines is a great foundation for a career."
During her visit to MDC's North Campus, Woteki met with faculty from the School of Science, political and business leaders from the community, administrators from Miami-Dade County Public Schools, officials from the University of Miami and MDC students. She also toured the Carrie P. Meek Entrepreneurial Education Center, an extension of the North Campus, in Liberty City.
New Perspectives
"The meeting and round table with Dr. Woteki were very fruitful," said Dr. José A. Vicente, president of North and West campuses. "We had the opportunity to exchange ideas and information about the STEM fields with her offering insights from multiple perspectives."
Students talked with Woteki about the scientific research they are conducting under the supervision of faculty members. In addition, Woteki toured the new Science Complex at North Campus and was impressed with the state-of-the-art technology and equipment in laboratories at Miami Dade College.
— AMS
More Powerful Partnerships Articles