---
Powerful Partnerships
Turbovote Puts Democracy in the Fast Lane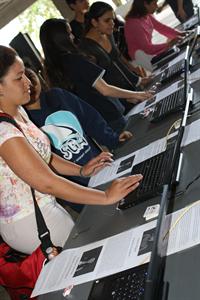 Students registered to vote at MDC's Kendall Campus during the TurboVote event.
Putting civic engagement and democracy front and center, Miami Dade College recently teamed with Harvard and Columbia universities in introducing to students a new U.S. voting service called TurboVote. Designed to aid people in registering to vote and voting by mail, TurboVote makes the election process easier, giving citizens more time to focus on candidates and issues.
As the largest institution of higher learning in the nation, MDC's participation makes the service accessible to close to 200,000 students in South Florida. The College recently held rallies at its seven campuses to expose students to the new service and encourage their participation. The John S. and James L. Knight Foundation funded local expansion of TurboVote, created by the nonprofit Democracy Works Inc.
Building a Healthy Democracy
"It's good to see students develop the habit of voting, because you need an informed and engaged public to have a healthy democracy," said Alberto Ibargüen, Knight Foundation president and CEO.
TurboVote lets voters verify online whether they already are registered to vote. They can also request a pre-filled voter registration form or vote-by-mail application. For every local, state and federal election, TurboVote sends timely text messages and email reminders to ensure that voters never miss a deadline, whether they go to the polls in person or cast ballots by mail.
Transforming Local Politics
"By reminding people to vote, services such as TurboVote can help citizens engage more routinely in public life," said Ibargüen. "We are particularly interested in what TurboVote will do in the four years between the presidential elections, where much of democracy happens on the local level."
Partnering with the Knight Foundation on numerous projects, MDC is proud to be working on this worthy endeavor.
"I know this will make a big difference in getting people to the polls and more engaged," said MDC President Dr. Eduardo J. Padrón.
— AMS
More Powerful Partnerships Articles