---
Powerful Partnerships
Focusing in on Ethnic Media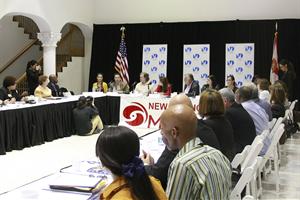 The Ethnic Media Roundtable at MDC's Wolfson Campus brought together local leaders in education with members of the media and the community.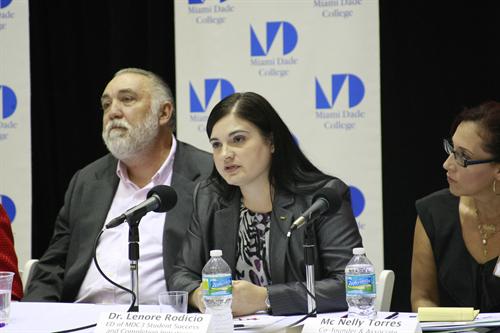 Panelists included, left to right, Sergio Bendixen, Lenore Rodicio and McNelly Torres.
A respected leader in the nationwide discussion on education reform, Miami Dade College recently hosted a roundtable shedding light on the influence of ethnic media on parents' perceptions of education.
At the center of the discussion, held at Wolfson Campus, was a newly released multilingual poll commissioned by New America Media with the support of The Bill & Melinda Gates Foundation. The poll surveyed the views of parents from different ethnic groups on the quality of their children's education and the factors they consider most important to a good education. Participating in the discussion were MDC Executive Director of Student Success and Completion Initiatives Dr. Lenore Rodicio, Sergio Bendixen of Bendixen & Amandi International, and members of the media, as well as parents and teachers.
"What was surprising to everyone was that the parents thought so highly of the education their children were receiving," said Rodicio. "Ethnic minorities largely believe that their kids' high school education is adequate, but we are finding that many students are not ready for college."
In addition to cultural biases toward education, ethnic media outlets play a significant role in informing parents' perceptions of education, especially among those who rely heavily on a limited range of outlets serving a particular linguistic cohort.
"The goal of this panel was to engage the ethnic media so that they consider education a top priority in the news they report," said Rodicio.
The panel discussion at MDC was a crucial step for enabling minority parents to make informed decisions and for empowering them to take a proactive approach to improving the learning outcomes of their children.
— MR
More Powerful Partnerships Articles