---
Powerful Partnerships
Albright Captivates MDC Audiences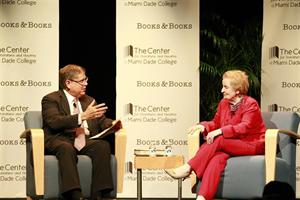 Alberto Ibargüen, president of the John S. and James L. Knight Foundation, interviewed former U.S. Secretary of State Madeleine Albright about her most recent book.
Sharing her compelling family history and experiences from her childhood in Europe and her distinguished tenure as a diplomat and the country's first female secretary of state, Madeleine Albright visited MDC's Wolfson Campus to discuss her most recent book, Prague Winter: A Personal Story of Remembrance and War, 1937-1948.
The event, which was presented in conjunction with Books & Books by The Center for Literature and Theatre at Miami Dade College, was part of The Center's 10th anniversary showcase. Albright intrigued audiences with a detailed account of Prague Winter, which unfolds as both a deeply personal memoir and an insightful historical work. The book transports readers from the capital city of Prague, Czechoslovakia, where Albright was born, to London, where her family moved following the Nazi invasion in 1939, to the desolate prison ghetto of Terezín. It serves as a guide to the future through the lessons of the past.
Albright reflected on the discovery of her family's Jewish heritage decades after the war. She also discussed the choices that her parents and their generation faced as complicated events unfolded on the world stage.
Albright's account of the book was complemented by insightful questions and commentary from interviewer Alberto Ibargüen, president of The John S. and James L. Knight Foundation and also former publisher of The Miami Herald. She also took questions from the standing-room-only crowd and signed books after the presentation.
Throughout the discussion, Albright stressed the remarkable endurance of the human spirit: "Out of the despair, there's a great sense of hope. And I think that's my main message – about the resilience of people, the goodness of people and the responsibilities that we have toward each other."
Albright served as U.S. Secretary of State from 1997 to 2001 and was the first woman ever to hold the position. Her distinguished career in government includes positions in the National Security Council, on Capitol Hill and as U.S. Ambassador to the United Nations. She has visited Miami Dade College several times, most recently in 2011 to present her popular book Read My Pins, which included an exhibition of her pin and brooch collection at the College's National Historic Landmark Freedom Tower.
— AMS
More Powerful Partnerships Articles