---
Academics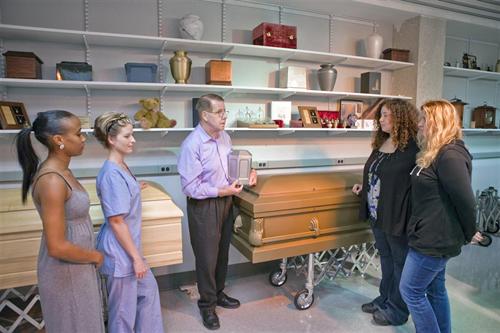 Enrollment Surges in Mortuary Sciences Program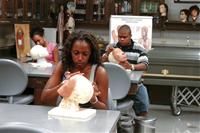 As part of MDC's Funeral Services Education Program, the restorative art laboratory offers students hands-on experience in facial reconstruction, restoration and cosmetology.
As the state's oldest, largest program and the only one accredited in South Florida, Miami Dade College's Mortuary Science Program has developed a long-standing reputation for being cost-effective while also offering a well-rounded curriculum, modern technologies and hands-on learning guided by highly experienced faculty.
Those factors, combined with a tight job market, have led many people to change professions, resulting in a nearly 30 percent increase in program enrollment in the past three years.
Developing Businesses
"With the fluctuating economy, many people are pursuing alternative career paths or creating their own businesses. This program empowers them to do that," said Loretta Adoghe, chair of MDC's Mortuary Science Program. And for those students wishing to carry on the tradition of family businesses already in the funeral services industry, Miami Dade College provides the best possible preparation.
About 30 percent of the program's students at MDC are second- or third-career students, including people in their 40s and 50s who are in the process of changing professions, said Dr. Allen Powell, a longtime professor and coordinator for the program.
"When asked why, they said it's something they always thought they would like to do, and now they're finally ready to move forward," Powell said. "Many are inspired to help others through the grieving process."
Enrollment also has been bolstered by an influx of women, who now outnumber men two to one in most funeral schools, Powell said.
Unique Facilities
MDC's program offers a distinct advantage as the only accredited mortuary science program in the state that has on-campus embalming labs.
Students gain valuable experience thanks to an agreement with the Miami-Dade County Medical Examiner's Public Interment Program, which provides cadavers to the College's Mortuary Science Program for embalming before being transferred to their final place of disposition.
"Many schools send students to local funeral homes where they get more 'looking at' experience than hands-on experience," Powell said. "By coming to our program, they have faculty working with and supervising them, so they are getting a great deal more practical experience than they would in other schools."
In MDC's program at North Campus, students also benefit from a comprehensive range of courses blending essential skills classes in anatomy, pathology, embalming and restorative arts with business-related courses in accounting and funeral home management to ensure students emerge well-rounded to guarantee their success as funeral directors and embalmers.
— AMS
More Academics Articles