---
Making Their Mark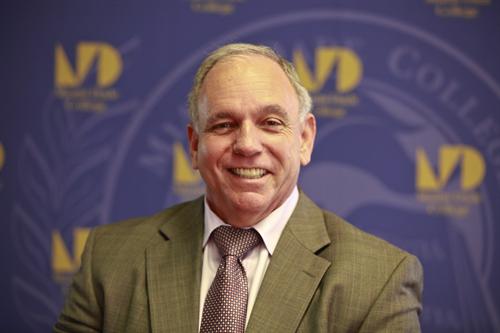 Chamber Names Dean a Healthcare Hero
Dr. Pete Gutiérrez, dean of the School of Health Sciences at MDC's Medical Campus, has received a 2012 Healthcare Heroes Award from the Greater Miami Chamber of Commerce for his extraordinary impact on the South Florida health care community.
The Individual of Merit honor noted the vital role Gutiérrez played in establishing the Miami Rescue Mission Health Clinic, a partnership with MDC's Medical Campus. Since opening in August of 2009, the clinic has helped 5,500 underserved and homeless individuals.
Double Award
"This is a great honor, both personally and for the School of Health Sciences," Gutiérrez said.
In addition to hiring and overseeing the clinical staff, Gutiérrez has volunteered nearly 2,000 hours since 2008 to advance the clinic and its operations. He also has overseen the volunteer program, worked on getting state licensing for the clinic and helped raise nearly $50,000.
The chamber noted Gutiérrez "has worked in the health care community to provide volunteer doctors, nurses, students, medical laboratories, funding, medications and more, serving not just as a 'walking, breathing ambassador' for the Miami Health Clinic, but also for the Miami Dade College Medical Campus." Additional community benefits of the Rescue Mission project are that it provides a clinical site for MDC's physician assistant, nursing and other health science students to gain hands-on experience.
Returning the Favor
Gutiérrez, who was a Miami police officer before becoming a physician, feels strongly about being able to give back to the community. "I have a lot of people to thank for where I am today," he said.
"The award belongs to a lot of people," he said. "It's very rewarding to be able to do this."
— Staff Report
More Making Their Mark Articles