---
Making Their Mark
Acing Life at MDC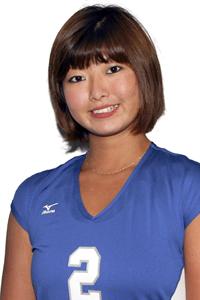 Star MDC volleyball player Yukie Futami is heading to the University of Alabama on a scholarship.
Yukie Futami arrived at MDC in March of 2010 as a foreign-exchange student, intent on learning to speak English and not planning to be an athlete at all.
Two years later, she has an associate degree in elementary education, is fluent in her new language and has earned a scholarship to play volleyball at the University of Alabama. The 5-foot-6 defensive specialist also had offers from both Hawaii and Missouri universities, which she turned down for top-ranking Alabama.
For those not up on the volleyball scene, Alabama is coming off one of the most successful runs in NCAA history. In six months – from January to June of 2012 – the Crimson Tide won four national titles: football, gymnastics, women's golf and softball.
"I really appreciate the many opportunities that Miami Dade College gave me," said Futami, 22. "I'm also very grateful to MDC Coach Kiko Benoit."
Doors Open at MDC
It was Benoit who had heard that Futami used to play volleyball when she lived in Japan. Even though she hadn't played competitively in a year, he invited her to a practice with MDC's Lady Sharks.
"I didn't know any English at the time, and I didn't even know it was a tryout," Futami said. "I just enjoy playing volleyball."
In Japan, Futami was not a part of the national team and saw no future for herself in the sport, which is why she gave it up. But Benoit saw her talent and offered her an MDC scholarship.
"That's where my whole story started," Futami said.
Exceptional Player
"She is the first international defensive specialist I ever gave a scholarship to," Benoit said. "She is very quick and smart, and she has a lot of experience. She played for 10 years in Japan, and the training there is great. On top of all that, her work ethic is outstanding. I think she will start right away at Alabama."
— WV
More Making Their Mark Articles