---
Powerful Partnerships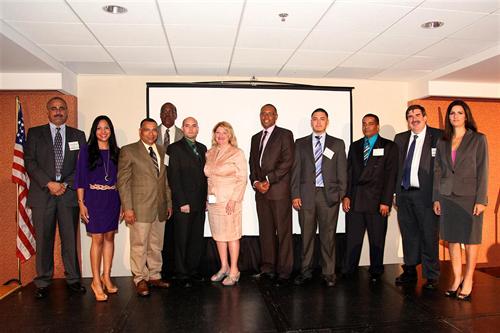 MDX Partnership Empowers Small, Local Businesses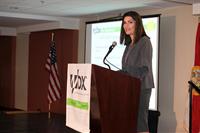 Thania Ríos, associate dean of MDC's School of Business, speaks about the success of the Miami Entrepreneurship Program, a new partnership between the College and Miami-Dade Expressway Authority.
Small, local businesses can now gain a competitive edge at Miami Dade College through a dynamic new partnership with Miami-Dade Expressway Authority (MDX).
A group of potential vendors for the various projects of the Expressway Authority recently was selected to complete the College's 12-credit Entrepreneurship Certificate Program, which helps participants learn the skills required to better handle day-to-day business operations and compete with larger firms for the many important contracts offered by MDX's Procurement Department and other organizations.
Services Expanded
"We already were providing our small businesses with some of the technical certifications they needed through our small business outreach program, but MDC's certificate program was a more complete program to give them everything they needed to manage their companies and be better entrepreneurs," said Helen Cordero, MDX's manager of procurement and contract administration.
MDC's intensive, four-month course enabled busy company leaders to complete the program while still balancing the responsibilities of their firms. The diverse group comprised leaders of contracting, engineering, printing and security guard companies, among others. 
Crucial Stepping Stone
"MDC is pleased to help these dedicated entrepreneurs gain the tools to build their own pathway to prosperity," said Thania Ríos, associate dean of MDC's School of Business. The credits earned can also now be applied toward one of the School's many associate degrees.
The program's success and the praise it has received from attendees have inspired MDX to expand the rewarding outreach efforts.
"It's been an overwhelmingly positive experience for the participants," Cordero said.
— AMS
More Powerful Partnerships Articles