---
Powerful Partnerships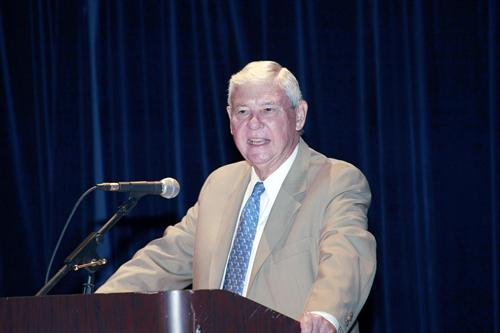 Mobilizing the Next Generation
At the recent Mobilize.org Target 2020 Florida Summit, MDC students were among more than 100 college student leaders offering winning ideas for increasing graduation rates and spurring civic engagement in the region.
Students from MDC's InterAmerican, Wolfson, Hialeah and North campuses were included in the exceptional group chosen to receive funding and a year of expert support from Mobilize.org to implement their proposals. Top among the participants, MDC's InterAmerican Campus team captured first place for their project titled "High School Community Outreach," which will use social media and community organizing to teach immigrant high school students in Miami-Dade County about their options for higher education and help them develop a strategy for college.
"Our mission is to improve college completion rates," said Jennifer González, one of the InterAmerican project leaders. "We plan to create a website where undocumented high school students can learn how to achieve their dream of getting a college education."
Aimed at millennials – young adults born between 1976 and 1996 – the Mobilize.org summit at the Deauville Beach Resort in Miami Beach was presented in partnership with the Bill & Melinda Gates Foundation and the John S. and James L. Knight Foundation.
A Different Perspective
"Mobilize.org believes that millennial college students have unique experiences and innovative ideas that will change the future of education and civic health across the country," said Mobilize.org CEO Maya Enista Smith.
The three-day event featured prominent guests including Isa Adney, author of Community College Success, and Damian Thorman, national program director of the John S. and James L. Knight Foundation.
"You understand what it takes to guarantee a better future for yourself, but beyond that, a better future for your community and your nation," President Padrón told attendees before he introduced former Florida Governor and U.S. Sen. Bob Graham.
The Florida Joint Center for Citizenship, founded by Sen. Graham and Rep. Lou Frey, and the National Conference on Citizenship released at the summit the Miami Millennial Civic Health Report, which found that Miami's 18- to 30-year-olds ranked lower than their counterparts elsewhere in community involvement.
MDC's Good Example
"The state of civic health of millennials in South Florida is not good," Graham told the summit. Despite this bad news, there's a strong history of success at Miami Dade College for ways to improve student involvement.
Referring to the state's record, Graham said, "We don't know precisely what the prescription should be, and so we're turning to you."
Lenore Rodicio, the College's director of MDC3 Student Success and Completion Initiatives, who was on a panel with Graham, pointed out that education is more than just learning skills – it's about how they're used.
"If your goal isn't to apply those skills to better the world around you," she said, "then what's the point?"
— Staff Report
More Powerful Partnerships Articles