---
Powerful Partnerships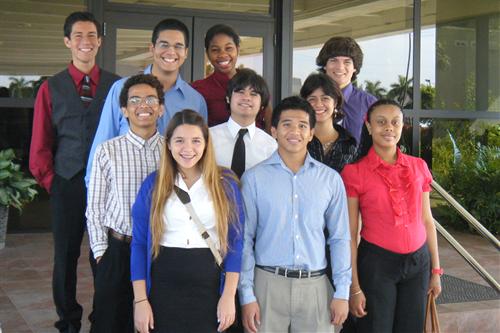 Four Fun Weeks, One Great Career
Juniors and seniors from Coral Gables and Booker T. Washington Senior High schools got a jump-start on great careers this summer during the intensive Future Bankers' Camp held at MDC's Wolfson Campus and Ocean Bank. An endeavor of the Center for Financial Training at Miami Dade College, the four-week-long program focused on introducing talented minority students from low-income areas to in-demand jobs in the financial services industry.
"This is an opportunity for them to see financial services as a career trend – an opportunity to have real-world experience," said Connie Laguna, executive director of the Center for Financial Training, a nonprofit educational arm of the American Bankers Association that has operated in partnership with MDC for 40 years to provide job training.
The Future Bankers' Camp included an intense 150-hour classroom component at Wolfson Campus and an internship at Ocean Bank. Students learned vital technical skills of a bank teller position through the program, which is administered by the Center and MDC's School of Business and funded by the South Florida Workforce Investment Board.
Comprehensive Coursework
In addition to handling money well, tellers must work effectively with the public and their co-workers, Laguna explained. Coursework included practical knowledge and applied skills in banking, regulatory compliance, customer service, sales and business ethics.
Students selected for the rigorous program, which began in 2008, must be in good academic standing and be recommended by their schools. Many are recruited from Miami-Dade County Public Schools' Academy of Finance program.
Bank Teller Certification
After successfully completing the program, students receive the American Bankers Association/American Institute of Banking Bank Teller Certificate, a national industry standard that meets the educational requirement for the certification exam offered by the Institute of Certified Bankers. Students who graduate from high school are eligible for Miami Dade College's Vocational Certificate and can work toward an Associate in Science in Financial Services.
Rick Beasley, the Workforce Investment Board's executive director, praised the collaboration with Miami Dade College as a "win-win" project for both the young adults and the community.
Preparation offered by the camp "ultimately will have a positive impact on the livelihoods of these students, their overall performance in school, their readiness for employment and actual employability success," Beasley said.
— Staff Report
More Powerful Partnerships Articles