---
Powerful Partnerships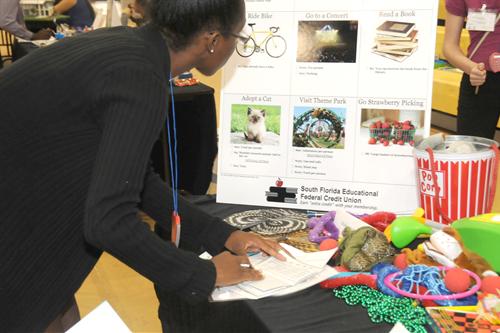 Dodging the Fickle Finger of Fate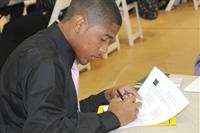 Mad City Money participants learned about all aspects of budgeting by touring through booths on everything from paying for housing and investing in the stock market to planning for entertainment expenses.
Tackling the serious topic of personal finance in a fun way, MDC's Kendall Campus recently joined forces with the South Florida Educational Federal Credit Union and Miami-Dade County Public Schools' Academy of Finance to present "Mad City Money." The budgeting simulation program reached out to more than 400 high school freshmen and sophomores to teach them the importance of saving money and living within their means.
Sponsored by the Center for Financial Training at MDC, Mad City Money challenged the teenagers to devise monthly financial plans based on roles they were assigned, ranging from a single professional to married clerical workers with children. All students received an occupation, a salary, credit scores and a debt load.
One Game, Many Players
"Each participant was given a different socio-economic profile and had to adjust their lifestyles according to what their budgets allowed," said Soley González, community relations specialist with the credit union.
Students passed through a circuit of booths staffed by their peers where they had to make decisions about how to budget for housing, transportation, clothing, day care, food, fun stuff, the mall, entertainment, the credit union and the stock market.
The Curve Ball
Just as they were mastering these 10 areas of their finances, they were confronted by the unexpected "Fickle Finger of Fate," forcing them to respond in an impromptu fashion to unforeseen expenses.
For example, they might be told, "On your way to work, you get a flat tire and it's going to cost you $50 to repair it," González explained.
While Miami Dade College has been involved with the Academy of Finance program for many years, this was the first year it was held on an MDC campus where the larger venue could accommodate more students than previous sessions held at local high schools.
This year's participants profited from the event, taking home lessons to set them on a sound financial path, inspired to pursue college degrees.
"Mad City Money is extremely eye-opening," said González. "Many of the students come to the realization that without a career, life can be very difficult."
— Staff Report
More Powerful Partnerships Articles