---
Powerful Partnerships
Making Democracy Count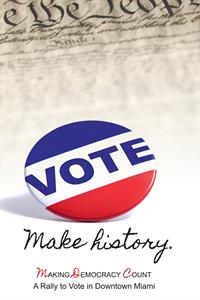 MDC is partnering up with TurboVote for a massive voter registration campaign called Making Democracy Count.
With the general elections near, Miami Dade College is living up to its reputation as "Democracy's College," doing its part to get out the vote collegewide this fall through TurboVote and a massive voter registration campaign called Making Democracy Count.
According to a recent Gallup poll, only 60 percent of eligible 18- to 29-year-olds are registered to vote, and voter apathy appears to be on the rise among young voters. To help stem this disconcerting trend, Miami Dade College has teamed up with Harvard and Columbia universities in introducing to students a new U.S. voting service called TurboVote. Designed to aid people in registering to vote and voting by mail, TurboVote makes the election process easier, giving citizens more time to focus on the candidates and their political platforms.
Computer kiosks used daily by MDC students to view course schedules and register for classes are now also outfitted with access to TurboVote. The John S. and James L. Knight Foundation funded local expansion of TurboVote, created by the nonprofit Democracy Works Inc.
The College's voter registration push culminates on Sept. 17 with buses bringing students from all seven campuses countywide to Wolfson Campus for a rally featuring live entertainment and exciting guest speakers.
"It's very important for young people to voice their opinions and become actively involved in the voting process," said Dr. Lourdes Pérez, dean of students at the College's InterAmerican Campus and lead organizer of Making Democracy Count.
"I'm thrilled that we're giving them the chance to do so."
— MR
More Powerful Partnerships Articles