---
Academics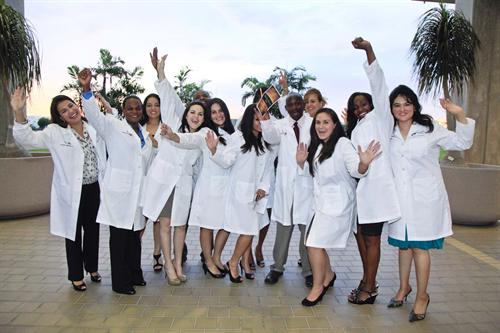 New Bachelor's in Biological Sciences Takes Off
With demand for those trained in biological sciences anticipated to increase by 21 percent in the next 10 years, MDC is paving the way to meet the region's growing workforce needs now that it has inaugurated the first class in its new Bachelor of Science in Biological Sciences program.
A festive White Coat Ceremony marked the beginning of the academic journey for 31 hard-working students now training for high-paying jobs such as natural science managers, research technicians and microbiologists.
Exceptional Training
"The inauguration of the Bachelor of Science in Biological Sciences represents a major milestone for the School of Science at Miami Dade College," said North Campus President Dr. José A. Vicente. "Students in this program will be able to gain the skills they need to be competitive in the 21st century bioscience workforce."
As a highlight of the evening, a keynote speech on the importance of the biological sciences was delivered by Dr. Ann M. Bartuska, who serves as deputy undersecretary for the U.S.
Department of Agriculture Research, Education and Economics Mission area.
State-of-the-Art Labs
Students in the bachelor's program will be taking advantage of North Campus' new high-tech Science Complex, with 21 labs and media stations. MDC also has newly renovated, state-of-the-art labs at Kendall and Wolfson campuses.
The program offers three distinct areas of concentration, including biotechnology, biopharmaceutical sciences and science education.
Vital Internships
"All of our students will participate in an industry internship before they graduate," said Dr. Heather J. Belmont. "They are the future of tomorrow, and we want them to excel in their prospective fields."
To learn more about Miami Dade College's Bachelor of Science in Biological Sciences degree, visit www.mdc.edu/science.
— SR
More Academics Articles