---
Academics
Igniting an Olympian Spirit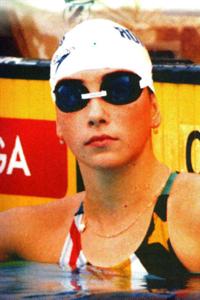 1988 Olympic Medalist Noemi Zaharia
Now that it's time to celebrate Fitness and Wellness Month in November, MDC's North Campus has the perfect dynamic duo ready to do their part – a pair of former Olympians.
Noemi Zaharia, director of the North Campus' Aquatic and Fitness Center, and her husband, Cristian Zaharia, are holding a one-day seminar "Finding the Olympian in You."
Noemi, a swimmer for Romania, won a silver medal in the 400 individual medley at the 1988 Olympics. She also won a bronze in the 200 IM at the '88 Games. Cristian, also representing Romania, finished eighth in team handball at the 1992 Olympics, which is where he met Noemi.
Both are very passionate about fitness. And they now share their winning Olympic spirit with everyone at MDC.
"My husband and I are used to doing motivational speaking," Noemi said. "We've both been coaching for 20 years, and we want everyone to be aware of fitness and wellness. This is the first time that North Campus is celebrating fitness and wellness for an entire month, so I convinced my husband to join in the fun."
Throughout her work at MDC, Noemi emphasizes the concept that finding your inner Olympian can be applied to everything, not just athletics.
"It's about being the best you can be, whether it's as a doctor, lawyer, writer or whatever you choose," Noemi said. "And this lesson is especially important for students at the College: The path is the same – hard work and dedication.
"The question is: Are you willing to do that work? Are you willing to sacrifice to be the best you can be?"
Taking the Zaharias' lead, Fitness and Wellness Month at MDC is becoming a challenge to excel in every endeavor.
— WV
More Academics Articles