---
Cultural Spotlight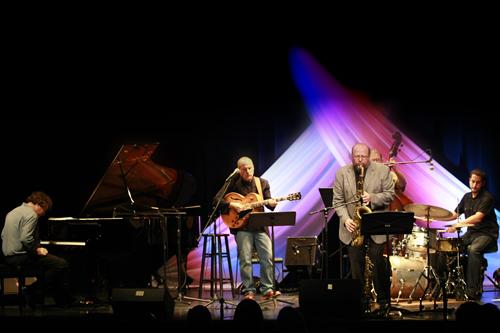 Jazz Stars Align at MDC
More than ever before, Miami Dade College is proving itself South Florida's unparalleled champion of jazz with vibrant concert and jazz series well under way at its three largest campuses.
Between the Saxophone Masters Series at North Campus, the Jazz at Wolfson Presents Visiting Artists Series at Wolfson Campus and Jazz Under the Stars at Kendall Campus, MDC offers students and the community many opportunities to experience high-caliber jazz encounters, free of charge.
Music of the Masters
At North Campus, audiences are getting schooled on the music of jazz greats with the Saxophone Masters Series' monthly concerts. Featuring Dr. Ed Calle, Grammy-nominated saxophonist, MDC professor and chair of North Campus' Department of Arts & Philosophy, along with special guests, the series kicked off in grand fashion in September with a powerhouse performance of the music of the legendary Joe Henderson at the state-of-the-art William and Joan Lehman Theatre, followed in October with a vibrant showcase of works by Latin jazz composer Gato Barbieri. Upcoming performances throughout the season will bring to life the works of Sonny Rollins, Wayne Shorter, King Curtis, Stanley Turrentine, Michael Brecker, John Coltrane, David Liebman and Steve Grossman.
Outstanding Talent
Jazz at Wolfson Presents put MDC first in its 15th season lineup, starting off with the MDC Jazz Faculty Quintet, comprised of some of South Florida's finest jazz musicians, including Calle, guitarist Dr. Mike Di Liddo, pianist Jim Gasior, bassist Rick Doll and drummer Rodolfo Zuñiga. Up-and-coming saxophonist and MDC alumnus Hery Paz performed in October, and more MDC talent will be taking the stage this fall with the award-winning Wolfson Jazz Ensembles, featuring three groups of exceptional students. Upcoming season performances will also bring to Wolfson Auditorium saxophonist Richie Cole, bassist John Goldsby, Dr. Lonnie Smith on the B-3 organ, singer Angela Hagenbach and guitarist Randy Bernsen. For more details, visit www.mdc.edu/jazzatwolfson.
A Sparkling Evening
Perennially drawing hundreds of people to Kendall Campus, the one-night musical extravaganza Jazz Under the Stars will have pros sharing the spotlight with students this year. MDC music students are headlining with Latin jazz percussionist Poncho Sánchez's Cubano Be Cubano Bop and singer Nicole Henry. Under the direction of Dr. Tim Brent, the MDC Jazz Vocal Ensemble will give audiences something to sing about.
— MR
More Cultural Spotlight Articles