---
Features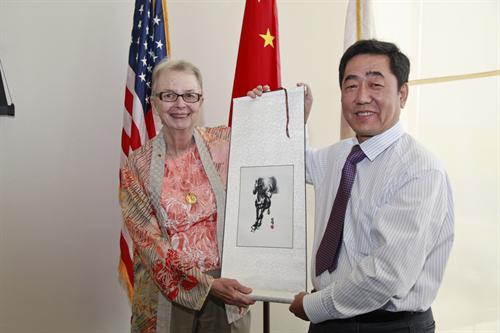 Sharing Educational Expertise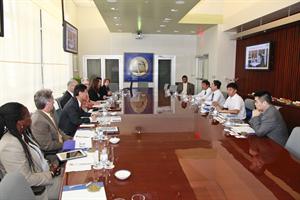 Jiangsu Normal University and MDC leaders met at Wolfson Campus.
Miami Dade College's presence will be felt more and more on the opposite side of the globe as collaborative endeavors with Chinese educational institutions continue to grow, following a series of visits by two delegations from China through MDC's Confucius Institute.
Earlier in the year, a 26-member delegation from the Heilongjiang Province Department of Education came to MDC for a weeklong visit. They were so impressed, said MDC Confucius Institute (CI) Director Dr. Jim Yu, that they recently sent their director of vocational education and three deans of vocational colleges to explore future training possibilities. The result: Two dozen Heilongjiang vocational education leaders will be coming in January for training at MDC.
MDC Is Top U.S. Stop
"The delegates from Heilongjiang said that MDC was the best stop they made in the U.S.," said Dr. Yu. "Miami Dade College has exactly what they are looking for: targeted training for the workforce."
MDC's already strong relationship with its Chinese sister institution, Jiangsu Normal University, is also blossoming in various new facets. Having hosted 15 MDC students studying there on CI scholarships, Jiangsu recently expanded the breadth of its collaboration with MDC and CI following a visit from its vice president, Baoquan He, and three administrators.
Multicurricular Connections
After taking a tour of Miami Dade College's impressive new facilities at the School of Entertainment & Design Technology and Miami Culinary Institute, the Jiangsu delegation plans to amplify collaboration with MDC in areas including mass communications, hospitality and culinary education. Having recently unveiled its own Spanish language program, Jiangsu Normal also seeks to learn from MDC's strong background in foreign language education. Other plans include establishing a business seminar to connect China, Latin America and South Florida, and a Chinese film component for the Miami International Film Festival.
"Jiangsu has provided excellent services to our students," said Dr. Yu. "We look forward to deepening this two-way collaboration, and we are very thankful for their support."
— MR
More Features Articles