---
Features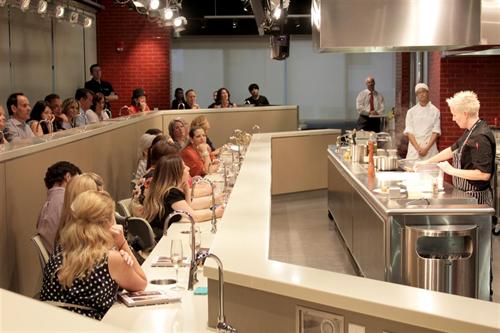 Celebrity Chef Pops in at MCI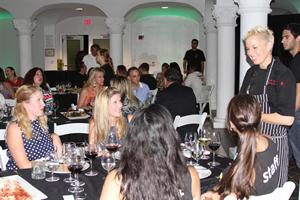 Celebrity Chef Elizabeth Falkner visits with patrons to her pop-up restaurant at MDC's Miami Culinary Institute. The three-day event offered a taste of her upcoming New York restaurant.
MDC's acclaimed Miami Culinary Institute (MCI) was thrust into the spotlight again with a visit from celebrity Chef Elizabeth Falkner, who offered a sample of her new venture to Miamians in a three-day pop-up restaurant event at the Institute.
Exclusive Preview
"We gave people a first taste of some of the items she planned for her menu at her highly anticipated new restaurant in Brooklyn," said MCI Director John Richards of the nearly sold-out event presented in partnership with LivingSocial.
Falkner, who was a finalist on the Food Network's Next Iron Chef and Bravo TV's Top Chef Masters, prepared a special three-course menu each evening, preceded by a cocktail and aperitivo hour. A limited number of guests participated in a VIP experience including a cooking demonstration in the Institute's state-of-the-art food and wine demonstration theater. Falkner, who has competed on Iron Chef America and appeared as a guest on shows including Rachael Ray's $40 a Day and Martha Stewart Living, also provided signed copies of her new book, Cooking Off the Clock.
Shadowing a Star
A lucky team of students from MCI had the opportunity to assist Falkner with the three-day event, gaining an invaluable, behind-the-scenes look at restaurant operations from one of the industry's rising stars.
"It was phenomenal," said MCI student Joshua Lewis, who helped prep and plate several dishes each night. "I've done plating in lab, but not in a real setting like this. Elizabeth and her team also showed me ways to improve my knife skills and prep faster. Helping with this event was such an amazing complement to what I learn in class."
For student Meosheka Chin-Tai, assisting with the pop-up restaurant offered an enlightening glimpse into how fast things move in the kitchen. Falkner, who began her culinary ascent as a pastry chef, also imparted some of her knowledge to Chin-Tai, who is especially interested in baking and was able to help prepare a seven-layer cake, almond cookies and gnocchi for the special occasion.
"Events like this are a great way to showcase MCI's incredible facilities and involve our students in exclusive learning opportunities and expose them to some of the most talented and recognizable chefs in the industry," Richards said. "This is one of the many ways we give students real-world knowledge."
— AMS
More Features Articles