---
Features
Paying Tribute to Julia Child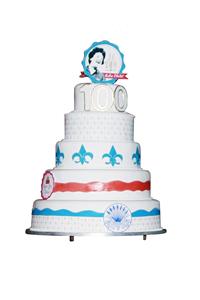 MCI recently honored Julia Child's 100th birthday with a day of "Julia at 100" events.
The Miami Culinary Institute at MDC celebrated the legacy of one of America's most renowned chefs with a day of "Julia at 100" events honoring the late Julia Child. The culinary-themed affair, presented in partnership with Les Dames d'Escoffier Miami, brought together esteemed chefs, food lovers and members of the community to mark what would have been Child's 100th birthday.
Lasting Legacy
Among the presentations, Chef Michelle Bernstein enthralled audiences with stories of her encounters with Child at a sold-out cooking demonstration at the Institute.
Author Nancy Verde Barr was also on hand to sign copies of her new book, Backstage with Julia: My Years with Julia Child, a lovely memoir of Barr's 18 years as Child's executive chef and producer for various TV shows.
"It was an honor for MCI to host this event in honor of someone who changed the course for a lot of people in our industry," said MCI Director John Richards.  "What a great experience it was to gather together some of the greatest chefs, Julia Child fans and foodies in South Florida to celebrate her lasting impression and the adventure we call cooking."
Following the afternoon of presentations, several hundred guests gathered for a cocktail party birthday bash in tribute to Child at the College's National Historic Landmark Freedom Tower, where Les Dames d'Escoffier Miami also presented a check to the MCI scholarship fund.
Treat for Audiences
A Julia-inspired intimate dinner party at MCI's Tuyo restaurant crowned the day's events. Chef Norman Van Aken orchestrated a five-course menu that delighted food connoisseurs and star chefs from throughout South Florida and beyond.
"Chef Norman created a special menu that really reflected his beautiful perspective on how his cooking was impacted by her," Richards said. "He's had opportunities to cook with Julia, and he shared many of those memorable stories, much to the delight the evening's dinner guests.
— AMS
More Features Articles