---
Features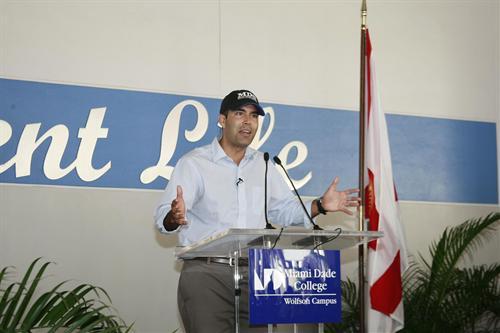 Rallying the Youth
George P. Bush, the son of former Florida Gov. Jeb Bush and nephew of former U.S. President George W. Bush, recently visited Miami Dade College to rally students' passions about democracy and encourage them to take an active role in democracy through public service.
The 36-year-old Bush is chairman of Maverick PAC, a political action committee that seeks to establish a network of conservative young professionals, provide access to decision makers and support conservative candidates.
"That's what Maverick PAC is all about. It's about getting young people registered and voting," Bush told students at the College's Wolfson Campus, the final stop on the PAC's Florida Bus Tour 2012.
Although one of the Bush family's younger political voices, George P. is already gaining experience in the world of politics. In addition to Maverick PAC, he is also chairman and co-founder of Hispanic Republicans of Texas and has served as a member to several diplomacy missions in recent years.
— MR
More Features Articles