---
Making Their Mark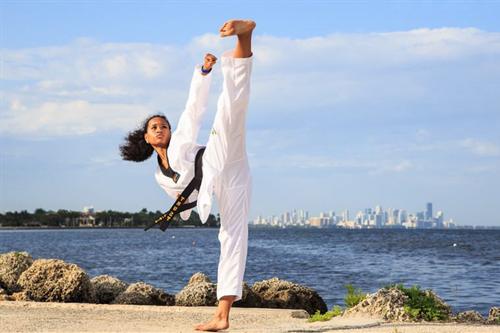 Capturing an Olympic Medal Between Classes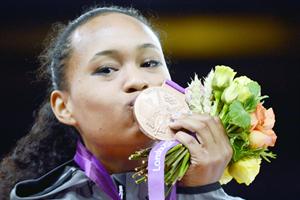 U.S. athlete and MDC student Paige McPherson poses with her bronze medal during the victory ceremony for the women's taekwondo under 67 kg category at the London 2012 Olympic Games.
Olympic bronze medalist and Miami Dade College student Paige McPherson, 21, said she's grateful to MDC for helping her balance all her goals.
"Education is important to me," said McPherson, who finished third in taekwondo at the recently completed Olympic Games in London. "One thing I love about the administrators and professors at MDC is that they really understood my situation and were very supportive. To train for the Olympics, I needed to travel to places like Germany, Spain, China and Korea, and they enabled me to turn in assignments before I went to compete."
The Olympian's next major event is the World Cup in Aruba during Thanksgiving week. Now taking online courses at MDC, she is majoring in international business and has a 3.8 GPA.
A Diploma and the Gold
Firmly focused on the future, she said, "My goal is to graduate before the 2016 Olympics in Rio de Janeiro, Brazil."
By then, she plans to be a serious threat to win a gold medal.
McPherson was 7 years old when she took up taekwondo, a martial art of Korean origins that uses kicks and punches to score points. She's been hooked on the sport ever since and has been a rising star in taekwondo since 2002, when she won a bronze medal in the Junior Olympics. She also won a gold medal at the 2008 Pan American Championships and finished first last year in the U.S. National Trials, securing her place on the U.S. Olympic team.
At 5-foot-8 and 140 pounds, McPherson isn't exactly small. But she said she competed against several women in London who were at least four inches taller and weighed about 15 pounds more than she does. 
"When I was younger, I was a little intimidated by those bigger girls," she said. "But then I realized that I'm a lot faster than they are."
Fiercely Competitive
Nicknamed "McFierce" by her teammates because of her tendency to yell and scream during her fights, the native of Abilene, Texas, knocked off the defending Olympic champion in her first bout in London.
"She was the hometown girl from Great Britain," McPherson said. "It was really loud during that fight."
McPherson lost her second fight to a woman from Turkey but battled back to win the bronze.
"Once I let everything go, I fought better," she said. "It was a blessing to have USA on my back."
— WV
More Making Their Mark Articles