---
Making Their Mark
At the Top of Her League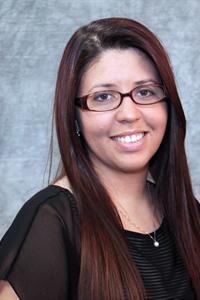 Julieth Ochoa-Canizares garnered the 2012 Phi Theta Kappa Hites Transfer Scholarship.
Miami Dade College makes the top 10 again. This time it is through the achievements of one of its Honors College students, Julieth Ochoa-Canizares, who was recently awarded the 2012 Phi Theta Kappa (PTK) Hites Transfer Scholarship, a distinction solely bestowed upon the year's 10 best candidates.
Chosen from more than 2,300 applicants worldwide this year, Ochoa-Canizares described the recognition as "absolutely overwhelming, opening multiple doors" for her. She is currently pursuing a Bachelor of Science in Robotics Engineering at Worcester Polytechnic Institute in Worcester, Mass.
A World of Possibilities
Shortly after arriving in Miami from Cuba three years ago, it was MDC that first opened the door to higher education for her, along with a window into the world of designing and implementing the use of artificial prosthetics.
"While I always knew I wanted to pursue a science career, at MDC I discovered how to satisfy my passion for science and engineering along with my desire to help individuals with disabilities and to contribute to a better tomorrow," Ochoa-Canizares said.
Notable Accomplishments
The prestigious Phi Theta Kappa Hites Transfer Scholarship awards its recipients $7,500 each for transfer to a regionally accredited baccalaureate degree-granting senior institution. A panel of independent judges selects from students enrolled in associate degree programs based on outstanding academic achievement, engagement in college and community activities and leadership accomplishments.
Ochoa-Canizares served as president of the PTK Omicron Tau Chapter at Miami Dade College's Kendall Campus during the 2011-12 academic year and is the recipient of several other scholarships.
"I took advantage of every single opportunity Miami Dade College offered me, participating in national and international academic seminars and many extracurricular activities involving not only the College but also the community," she said. "That was the key to my success."
— HP
More Making Their Mark Articles