---
Making Their Mark

Capitalizing on a Great MDC Education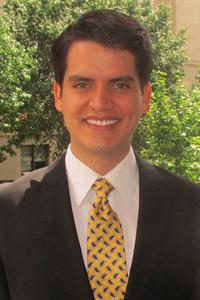 MDC Honors College graduate Luis Alberto Sánchez is excelling at George Washington University.
He's completed a leadership seminar at Harvard University, met U.S. President Barack Obama and former President Bill Clinton and been inspired by an outstanding lecture class on "Reflections on the Federal Reserve," taught by current Federal Reserve Chairman Ben Bernanke.
Former MDC student Luis Alberto Sánchez, now a senior at George Washington University, has come a long way from the quiet young man he was when he arrived in Miami as a high school senior.
Sánchez grew up in the picturesque mountain city of San Cristóbal, Venezuela, which sits on the border with Colombia. Although beautiful, it is a frightening place to be a kid since there are frequent kidnappings, especially of children.
So Sánchez moved to Miami when he was 17 years old. Right after high school graduation, he was accepted into MDC's Honors College, where he was mentored by several professors who saw his talents, including Dr. Michael Lenaghan, a social sciences professor at North Campus.
Making the Connection
"Dr. Lenaghan's class was challenging, yet also very rewarding," Sánchez said. "He not only helped me academically, but he also taught me the art of creating great connections."
One of the important contacts the College helped Sánchez make was with U.S. Sen. Bill Nelson, for whom Sánchez interned at Nelson's regional office in Miami.
This experience served as fitting preparation for Sánchez's transfer to George Washington University, located in the nation's capital and hub of all U.S. government activity. The eager alumnus of MDC's Honors College, who has a 3.75 GPA, wants to be a lawyer and is majoring in international affairs with a concentration in economic development and a minor in human geography.
Life Skills Learned
Fondly remembering his alma mater, Sánchez said The Honors College at MDC is where he learned many of the skills he has since used at George Washington University.
"Miami Dade College gave me the opportunity to have great professors who developed my academic skills," said Sánchez, who now is aiming to become an intern at the Federal Reserve's Public Relations Office.
"Coming from abroad, it's hard to quickly attain a high academic level, especially with English as my second language. But my MDC professors mentored me and helped me understand the academic system in the U.S.," he said. "They taught me how to better present myself in formal letters and interviews and helped guide me through the process of transferring to George Washington. I wouldn't be where I am today without the help of Miami Dade College and those great professors."
— WV
More Making Their Mark Articles