---
Powerful Partnerships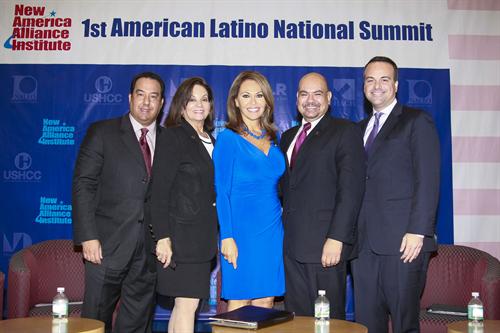 Redefining the Role of American Latinos
Further expanding its vital leadership role in the development of our nation's intellectual capital and workforce resources, Miami Dade College recently hosted the first American Latino National Summit, a daylong event that focused on the strong economic case for American Latino advancement, including wealth building, education, immigration, civic participation and American Latino leadership across all sectors.
Presented by the New America Alliance (NAA) Institute, the Summit convened at the College's Wolfson Campus. Changing the tone and tenor of the national discourse concerning American Latinos, the roundtable discussions throughout the day redefined for the nation who American Latinos are and what their growing contributions have been and will be to our nation's future.
Education played a central role in the discussions, with emphasis placed on best practices by colleges to promote workforce development and social mobility among the Latino population.
The collaborative and inspiring Summit was co-hosted by the Hispanic Association on Corporate Responsibility, the NALEO Educational Fund, the National Council of La Raza and the U.S. Hispanic Chamber of Commerce.
Renowned Latino leaders who participated in the plenary discussions included Ana María Fernández-Haar, vice board chair of the New America Alliance Institute; Carlos Orta, president of the Hispanic Association on Corporate Responsibility; and Univision Networks President César Conde, among many others. Univision news anchor María Elena Salinas served as moderator for the opening session.
— Staff Report
More Powerful Partnerships Articles