---
Academics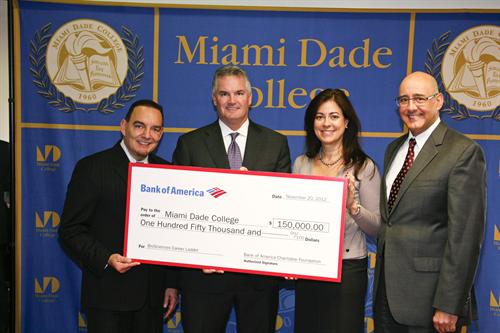 Banking on Biotechnology
Thanks to generous corporate support, Miami Dade College continues to move forward in its mission to offer everyone the opportunity of higher education and better future job prospects, despite difficult financial times and decreasing state funding for education.
Offering a helping hand, the Bank of America Charitable Foundation recently contributed $150,000 to MDC's School of Science to create a biosciences program focusing on training and placing low-income students in high-wage, high-growth life science fields. The new program will serve as a ladder to academic and professional success, helping students each step along their way to careers in biotechnology, pharmaceutical science and science education.
High-Growth Industries
"Workforce demand in the biosciences industries is expected to grow 21 percent in the next six years," said MDC North Campus President Dr. José A. Vicente. "In addition, Florida's Agency for Workforce Innovation reports that an average of 950 employment positions in the region now require a baccalaureate degree in these fields, so with this grant, MDC will be filling a vital need."
The grant offers student stipends to defray the costs of tuition, books and lab fees, as well as awarding stipends for student biosciences internships, which are required for graduation but often are unpaid positions. In addition, students will receive assistance from MDC's on-site Single Stop offices, which assist with numerous services, including tax preparation and screening for government benefits.
"Bank of America's generous contribution to our students will help them move from our MDC laboratories into the industry," said Dr. Heather Belmont, dean of MDC's School of Science.
Rich History of Giving
At the check presentation ceremony, MDC Provost Dr. Rolando Montoya noted Bank of America's strong tradition of corporate giving to the College and its commendable programs.
"We thank Bank of America not only for this important grant to improve our region's workforce but also for their sponsorship over the years of so many diverse MDC programs that enrich our community," Montoya said. "Their generous support has included sponsoring MDC's New World School of the Arts Rising Stars program, art exhibitions at the College and funding for an Endowed Teaching Chair, along with support of MDC's Miami Book Fair International and the Single Stop student services program."
— BK
More Academics Articles