---
Academics
Autism Education Gets a Helping Hand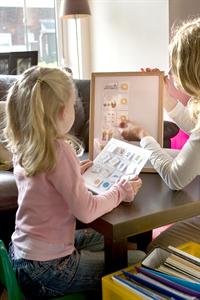 MDC's School of Education now offers educational endoresements in Autism and Prekindergarten Disabilities for teachers working with special needs children ages 3 through grade 3.
Miami Dade College's School of Education (SOE) is reaching out to fill a growing academic need by offering tuition support to teachers and others with baccalaureate degrees who want to earn Autism and Prekindergarten Disabilities Endorsements.
Between 2006 and 2008, there was a 17 percent increase in the number of children in the U.S. diagnosed with developmental disabilities compared to a decade earlier. That translates to about 1.8 million more children. During the same time period, the prevalence of Autism Spectrum Disorder (ASD) increased by 290 percent, and there was a 33 percent increase in the incidence of Attention Deficit/Hyperactivity Disorder (ADHD).
"MDC's School of Education is responding to the needs of the community by offering these endorsements," said the School's director, Dr. Susan Neimand. "Well-trained, conscientious, compassionate teachers who are able to work with these unique populations are in high demand."
Those seeking an ASD endorsement at MDC must already hold certification in Exceptional Student Education. The Prekindergarten Disabilities Endorsement prepares teachers and baccalaureate degree-holders to work with special needs children ages 3 to grade 3. 
"Early identification and early remediation can be life-changing for young children," Neimand said. "It can mean the difference between school success and failure. We must ensure that every child has access to high-quality education."
To fill the workforce gap for teachers specialized in this area, the Florida Department of Education is providing financial assistance to exceptional student education, preschool and early childhood teachers in Florida public schools who are teaching children identified with ASD or Prekindergarten Disabilities.
To learn more about the tuition support, call 305-237-6152 or visit www.mdc.edu/iac/education.
— BK
More Academics Articles