---
Academics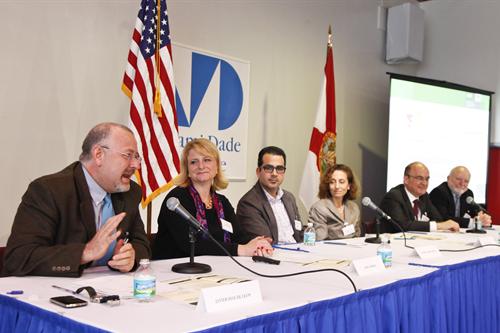 Shifting Aid to Intellectual Capital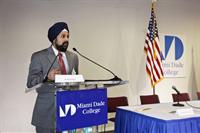 Romi Bhatia of USAID discussed U.S. government strategic partnerships with diasporas.
For several decades, Miami Dade College has created programs to facilitate the successful assimilation of immigrants into U.S. society. The College is now developing a new program to provide a pathway for members of diasporas to remit knowledge back to their homelands – knowledge that will effect change and improve economic conditions.
MDC recently convened a panel of experts to offer valuable insights and recommendations on how to best advance this mission. Presented by MDC's Center for Latin American and Caribbean Initiatives (CLACI) in partnership with the Cuban Research Institute at Florida International University and the Migration Policy Institute of Washington, D.C., the forum brought together distinguished panelists from higher education, government and nonprofits who have conducted research on the potential of various diasporas to engage and influence their homelands.
"MDC is seeking local partners in the Americas to join the College in the engagement of diasporas in a common effort to organize the transfer of human and social capital and assist in the development of entrepreneurial endeavors in select countries," said CLACI Executive Director Dr. Juan Antonio Blanco. "We also want to use members of diasporas as trainers and tutors, initially drawing on MDC faculty, staff and students to help facilitate the transmission of knowledge back to countries of origin."
Seeking new ways to expand on its mission to change lives through the opportunity of education, the College also is cultivating a combination of on-site, distance-learning and entrepreneurial training strategies to assist economic growth in countries of origin.
— AMS
More Academics Articles