---
Academics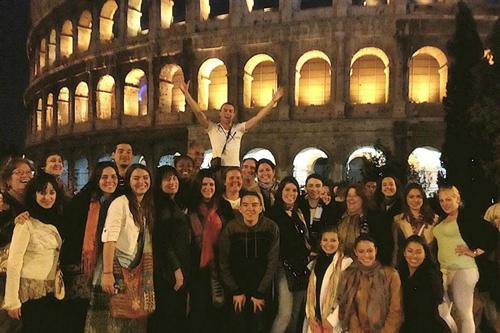 The Science Behind Business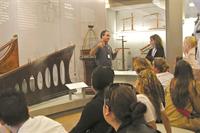 Dr. José Orta gave detailed explanations to his students about Galileo's instruments at the Museo Galileo in Florence.
In our expansive global economy, business may make the world go 'round – but not without the help of science.
This is the lesson that came alive for 35 MDC students who recently enjoyed the opportunity to travel to Italy with five professors to see the birthplace of modern science and how it influenced the growth of business early on.
Symbiotic Subjects
"We scientists can afford the luxury of research because it develops the business that helps to pay for it," said MDC Physics Professor José Orta, who co-teaches an interdisciplinary course, The Economic Effects of Scientific Discoveries, along with faculty members from MDC's School of Business. Joining Orta on the 10-day trip were business professors María Mari and Colleen Chung and Drs. Eileen Johann and Ana Ciereszko from Orta's Department of Chemistry, Physics and Earth Science. Their goal: to show students how much the two seemingly different fields truly rely on each other.
Being the homeland of both Galileo Galilei and Leonardo Da Vinci, Italy was the perfect place to bring full circle the concepts that students had studied over the semester, which connected the interdependence of scientific inquiry and trade. In Florence, Orta led the group on a tour of the Museo Galileo, where they saw the great scientist's own instruments and learned how the patronage of Renaissance Italy's wealthiest and most powerful families encouraged scientific inquiry, enabling important discoveries and inventions to come to fruition.
Living History
Now admired mainly for its beauty, Venice was for many centuries one of the Mediterranean's key maritime trade hubs – a bustling place where economic growth and science naturally and symbiotically intertwined. In this birthplace of mercantilism, students learned about the origins of accounting and the importance of cartography to trade. They also saw with their own eyes where Galileo mesmerized the city's nobles with his observations of the heavens atop of the Bell Tower at Piazza San Marco.
"It's important for students to have this knowledge and make the connections. Research and business go hand-in-hand – and the possibilities are endless," said Orta. To drive home this point, the MDC group made a pit stop at the Ferrari Museum in Maranello, near Modena, to get a glimpse of the apogee of car making. In Rome, they marveled at the wonders of Roman engineering with a visit to the Colosseum and the Forum.
"The opportunity to see the artifacts and historic sites where business and science intersected early on makes it all come together," Orta said.
— MR
More Academics Articles