---
Cultural Spotlight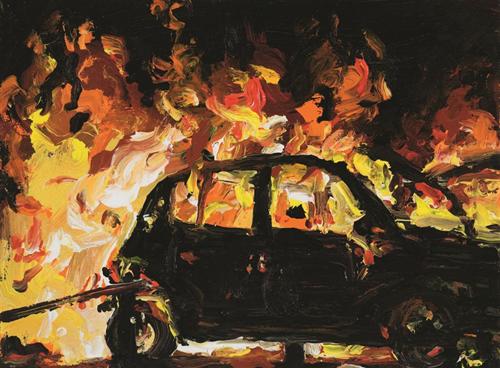 Celebrating a Lifetime of Art
This spring, the MDC Museum and Galleries of Art + Design celebrate a living artistic legend with exhibitions featuring the works of painter Arnold Mesches at four locations collegewide.
Comprehensive Overview
Opening on Valentine's Day and running through May 4 at its main exhibition space located within the National Historic Landmark Freedom Tower, the MDC Museum of Art + Design will present a comprehensive retrospective curated by art critic, curator and author Kim Levin that spans Mesches' illustrious career on the threshold of the artist's 90th birthday.
Arnold Mesches: A Life's Work will showcase more than 65 important works from several of his 14 series, including many pieces on loan from the collections of the Metropolitan Museum of Art, the National Gallery, the Whitney Museum of Art, the Albright-Knox Museum of Art, the San Diego Museum of Art and the Los Angeles County Museum of Art, along with many others.
Simultaneously, Mesches will be the focus of three other MDC exhibitions at the Kendall, North and Centre galleries.
Getting Personal
Kendall Gallery will present The FBI Files, a series of collages Mesches began creating in 2000, drawing on his personal history as the subject of a 26-year McCarthy-era FBI investigation that resulted in his being spied on by his neighbors, a student and even a lover. Mesches' artistic meditations on the fears and suspicions of Cold War paranoia became acutely relevant amid the nationwide debate that ensued after 9/11 concerning privacy versus freedom of information.
At Centre Gallery and North Gallery, "minispectives" featuring small paintings, drawings and collages created from 1996 to 2012 will give viewers an opportunity to see how Mesches' works are, in his own words, "a summation of the collected views on the world's madness and inconsistencies." Works featured in these shows will range from his most recent series Shock and Awe to other renowned ones including It's a Circus, Coming Attractions and Paint.
— MR
More Cultural Spotlight Articles