---
Cultural Spotlight
Grappling with Life's Complexities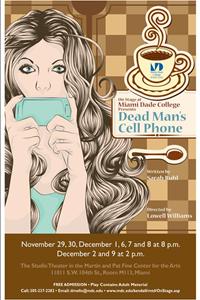 Audiences packed the theater recently when Kendall Campus' On Stage theater ensemble presented Sarah Ruhl's 'Dead Man's Cell Phone.'
After its successful fall season presenting Paula Vogel's How I Learned to Drive and Sarah Ruhl's Dead Man's Cell Phone, Kendall Campus' On Stage theater ensemble moves forward full force this year with two iconic plays: Arthur Miller's Death of a Salesman and Luigi Pirandello's Six Characters in Search of an Author.
"We're tackling a couple of the great classics of 20th century playwriting, giving both our student actors and South Florida audiences works designed to challenge them intellectually and stir their emotions," said Deborah Mello, director of the group and a theater professor at Kendall Campus.
Receiving a Pulitzer Prize for Drama and the Tony Award for Best Play in 1949, Miller's critically acclaimed work calls into question the materialistic aspects of the American Dream in which a fixation with the superficial trappings of success often overshadows a deeper understanding of the meaning of life and relationships. When salesman Willy Loman's disenchantment with his career and his disappointment at the lack of ambition of his sons augment his depression and lead to his suicide, we can't help but reassess our own personal value system. On Stage will present this powerful play the last two weeks in February.
In April, the ensemble takes on Pirandello's metatheatrical Six Characters in Search of an Author, which calls into question the multilayered levels of theatricality and contrivance inherent in all plays. In this piece, the main conflict is between the actors themselves, the characters they are portraying and their manager, all of whom are trying to play their roles to their fullest despite the perplexing absence of an author. Dismantling the conventions of all well-crafted plays, Pirandello provokes the audience to reconsider their most basic concepts about what theater is. You can experience this mind-teasing feeling yourself during the performances in mid-April.
"Our goal is to get people excited about the theater, and these two memorable works definitely will do that," Mello said.
For tickets, call 305-237-2282 or email dmello@mdc.edu.
— BK
More Cultural Spotlight Articles