---
Making Their Mark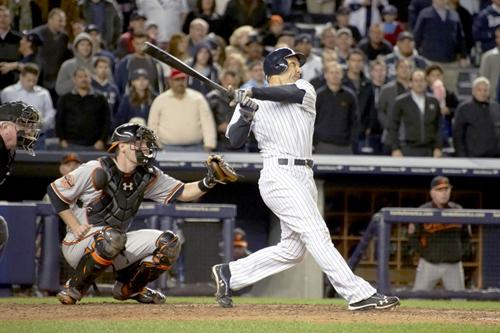 Home-Run Hero
Former Miami Dade College star Raúl Ibáñez, who in the fall was playing for the New York Yankees and recently signed with the Seattle Mariners, became the first player in baseball history to hit three home runs in the ninth inning or later in a single postseason.
Ibáñez's amazing streak started against the Baltimore Orioles last October, when he pinch-hit for the sport's highest-paid player, Alex Rodríguez, and came through with a pair of dramatic home runs in the American League Division Series.
Ibáñez, 40, became the first player in baseball history to homer twice in a playoff game that he did not start. He tied the score with a ninth-inning homer and then won the game with a walk-off blast in the 12th inning.
It was the first time that Rodríguez, who makes $29 million a year, had ever been pinch-hit for in a postseason game. Later in the next playoff round, against the Detroit Tigers in the American League Championship Series, Ibáñez hit another outstanding game-tying home run in the ninth inning.
Ibáñez's heroics continued a long MDC tradition of baseball excellence, especially in the postseason. In 2010, for example, outfielder Andrés Torres led the Giants to their first World Series championship since moving to San Francisco in 1958. Going back further, Mike Piazza led the New York Mets to the 2000 World Series, and Bucky Dent of the Yankees broke the hearts of fans in Boston with his dramatic home run in 1978. Dent was also the 1978 World Series MVP.
— WV
More Making Their Mark Articles