---
Making Their Mark
NWSA Helps Make His Dream Come True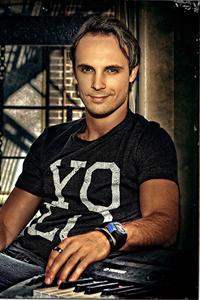 'Rock of Ages' star Dominique Scott attributes his success to the exceptional training he received at MDC's New World School of the Arts.
Actor/musician Dominique Scott has performed his role of Drew in the hit musical Rock of Ages more than 350 times in more than 100 cities in the past year.
Yet despite the glamour and excitement of touring as a professional actor since October of 2011, the talented 24-year-old hasn't forgotten where he came from. Scott, who spent all four years of high school at MDC's New World School of the Arts, said the experience at the prestigious conservatory helped shape his life.
"I was lucky to get into the NWSA program," said Scott, who recently was on a bus heading to Regina, Saskatchewan, in Canada for the next leg of his tour. "New World School of the Arts helped me grow as a person and as an artist. Being a student there was one of the best opportunities of my life.
Outstanding Mentors
"NWSA opened my way of thinking about life and helped me become a more worldly person. I met so many people from different backgrounds," he said. "I was just 14 when I began studying at NWSA, so I really profited from all the great teachers who let me experiment and grow as a performer."
In some ways, Scott was born to be a performer. His father, French-born Jean-Claude Stasiulis, played lead guitar for the rock band Hollow Spirit in the 1970s and 1980s. He gave up the rock life when he met Scott's Polish-born mother.
Scott's father gave him one bit of advice: If you want to perform, be versatile. Scott has followed that wise counsel, learning a wide variety of performing skills, including piano, trapeze and dance.
Early Start
By age 10, Scott was acting in plays with a regional theater ensemble in Miami Shores. He spent summers at the French Woods Festival, a performing arts camp just outside of Hancock, N.Y.
"It has the world's largest children's circus," Scott said. "So I spent a lot of time dangling from contraptions."
After high school, Scott went to Syracuse University, where he majored in musical theater with a concentration in directing. He even started a rock band there called Domin8trx.
Well-Prepared for Job
Scott said traveling around the country to do Rock of Ages is one of the best jobs in the world. And he is grateful to NWSA for developing the talent he needed to land this great gig.
"It's a culmination of everything I've been trained to do, with the exception of the trapeze," Scott said. "I get to act, sing and dance.
"I love the show, and I love its message, which is: 'Don't stop believing.' No matter what your dream is, don't stop believing."
— WV
More Making Their Mark Articles