---
Making Their Mark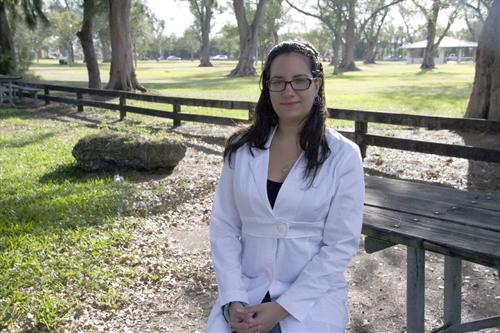 Seeking Cures for Complex Diseases
Mastering the meticulous investigative work she'll need to find cures for complex diseases, Rosana Quintana is well on her way to her future career as a physician. The MDC biology major currently is conducting experiments with Clostridium taeniosporum, a bacteria related to botulinum toxin, which is used to manufacture Botox.
With the help of MDC's erudite faculty and advanced laboratory facilities, Quintana is working to identify different types of proteins called endonucleases and their impact on the immune system. She also is conducting genome analyses, which helps her study DNA. By engaging in this type of research, she can manipulate or mutate DNA.
"If someone was trying to cure cancer, it is quite possible that they can use endonucleases in their research," Quintana said.
Ready to take her studies to the next level, the enthusiastic researcher is completing an associate degree at MDC and entering into the College's new Bachelor of Science in Biological Sciences program.
"I like to learn new things," she says. "Miami Dade College has a great support system. No matter what major you're in, you can always find people who will help you and lead you in the right direction."
— SR
More Making Their Mark Articles